Every culture has its own celebrations before the Lent begins.
In ancient times people began celebrating winter drifting away with ample suppers and boisterous festivities. During those suppers, as a starter, they served doughnuts filled with bacon. When Christian culture gained prevalence in Europe this feast evolved into festivity demarcating the border between the carnival and the Great Lent. Since XVI century people eat sweets on this occasion. In Sweden for example everyone savors the taste of semle – a bun cut into half with sweet stuffing. In Anglo-Saxon countries people eat pancakes, while in Russia they consume blins (type of a pancake).
In Poland…
Here this festivity is called Fat Thursday literally translated from Polish Tłusty Czwartek. On the last Thursday of the carnival we cultivate the tradition of eating doughnuts known here as pączki with various fillings. We usually do not organise any parades. This feast has a rather symbolic, however very tasty character. Children and adults bring doughnuts to schools and offices and often bet who will devour more dainties. This habit results in sales on Fat Thursday reaching 100 million doughnuts!
Types of sweets
Due to the fact that the types of fillings are extremely varied, we have prepared a list of all of them, so that you knew what you might expect on the day of pączki hype. Website smaker.pl has also made a survey investigating which of the four most popular types of fillings are the users most fond of. The graph below presents its outcomes.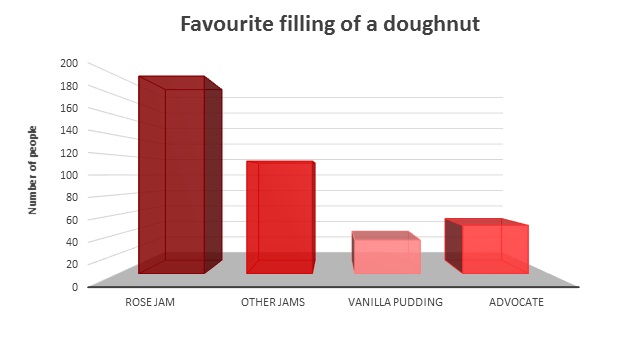 What can be found in a doughnut:
rose jam
advocate
vanilla pudding
chocolate (with cherries)
strawberry jam
strawberry marmalade
dulce de leche cream
cherry jam
A doughnut should also have some kind of a topping. The most popular are caster sugar or icing. Some people tend to put coconut shreds, candied orange crust or almond flakes on the icing.
Apart from pączki, typical sweets prepared on Fat Thursday are faworki, deep-fried pastry ribbons known in Italian as cenci. They are usually served with powdered sugar. There are two types of faworki, one made from yeast-dough and the other is made from a special dough of a very crispy and powdery texture. Their shape is very characteristic and most probably you will find them only in Poland. Although lighter than pączki, by no means are they recommended for those on a diet.
Where to buy doughnuts?
A legendary producer of pączki – Antoni Blikle has built his entire sweets and confectionery empire thanks to his doughnuts recipe. A. Blikle is a world-famous brand of confectioneries present on the market since 19 century. It can be found in such Polish cities as Warsaw, Częstochowa, Gliwice, Katowice and Kielce. Although this producer is the most famous one, there is of course plethora of other confectioneries selling delicious pączki with various fillings, especially on this day. We recommend you to forget about counting calories and try at least one!
Here are a few addresses of confectioneries selling tasty pączki in various Polish cities…highly recommended to visit some of them on Fat Thursday.
Kraków
Confectionery Michałek
6, Krupnicza Street
Poznań
Confectionery Limaro
2, Prusa Street
(various addresses)
Wrocław
Pomorzanka Confectionery
Rynek (Market) 59, Old Town
Szczecin
Confectionery ASPROD
2, Niepodległości Street
Łódź
Confectionery Gałeccy
128, Piotrkowska Street
Gdańsk
Confectionery Raszczyk
88, Pomorska Street
(various adresses)
Warsaw
Confectionery Pawłowicz
13, Chmielna Street
Toruń
Zyska Confectionery
5, St. Catherine Street