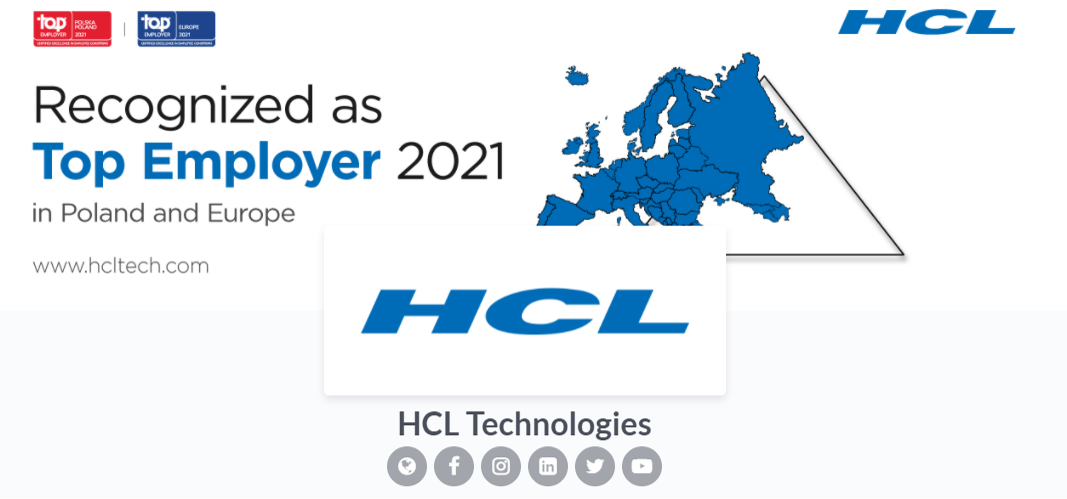 HCL Technologies is the fastest growing large technology company for four years running. Our mission is simple, to help enterprises reimagine their business for the digital age. Our technology products and services are built on four decades of innovation, with a world-renowned management philosophy, a strong culture of invention and risk-taking and a relentless focus on customer relationships. Established in 1976 as one of India's original IT garage start-ups, HCL now operates in 50 countries, delivering holistic services across industry verticals to leading enterprises including 250 of the Fortune 500 and 650 of the Global 2000. By joining HCL you will have the opportunity to work with many of the best companies across the globe.
Work at HCL
At HCL, innovation is not just another word, it is part of our organizational heritage and DNA - a journey that began in 1976 and continues to power us ahead even today. The culture at HCL Technologies – ideapreneurship™ as we call it - makes the license to ideate a distinctive organizational capability. We see a grassroot movement that has rallied the entire organization behind this innovation agenda, in a manner that leads to relationships that deliver value beyond the contract to our customers. ideapreneurship™ - is based on the fundamental belief of inverting the organizational pyramid and engaging, enabling, and empowering the front line. This is because we understand that they are best placed to appreciate and understand the customers' business and shape the roadmap to enhance the 'value zone' created in every interaction they have.

HCL is not just a great place to work, it is a place to do great work.

#30 on Forbes list of the World's Best Employers / #1 highest ranked multinational headquartered in India
Recognized as a Top Employer in Europe in 2021 by The Top Employers Institute and a Top Employer in Poland in 2021
Winner of Business Standard's Company of the Year 2021
At HCL we believe in giving back to the communities in which we operate in with the establishment of local CSR councils and collaborations such as our partnership with the International Women's Day body for the past 3 years
GDC Poland
HCL selected Poland in 2007 due to its skilled workforce, strong educational network, and proximity to its customer base. During all those years the Poland GDC has evolved from providing business services - i.e. IT consultants and business analysts, buyers, accountants, HR specialists, towards more advanced technical capabilities. Today, the Poland GDC provides application development and maintenance, IT infrastructure management, storage design and architecture services, SAP services, engineering services, and other consulting services for its global customers. Our employees are mainly IT specialists, programmers, testers, developers and artificial intelligence (AI) experts. We serve customers in Europe and around the world in more than 20 languages for those locations where our customers have their headquarters and branches. The industries and organizations we serve from Poland are very diverse: from the industrial and energy sector, to automotive, aviation and logistics, through retail, media and entertainment industry, to the banking and financial market.
Wroclaw Field Service Operations
We are providing technical support with IT hardware and software (Windows clients, network, printing, local applications) to one of automotive client. Our work focus on IT infrastructure maintenance, operations and support. On daily basis we cooperate with other support functions within HCL but also with client groups. We create our own ways of working and develop instructions for other colleagues. We manage client fleet and storage. We secure proper hardware purchase planning and execution.
Wroclaw Application Operation Delivery
AOP operates the application environment in runtime across all infrastructure components, optimizing the infrastructure according to the specific application needs, and works in conjunction with other infrastructure services like Platform/Server, Storage, Database, End User and Network operations to provide a robust runtime environment for business solutions. We are the team of experts in: • .NET • Application Operation Management • AS400/iSeries • RunTime Deliveries • WLAN/LAN/Network
HCL Software
BigFix Inventory is popular among most of the biggest organizations in the world as their software asset management system. It dramatically reduces time required to conduct a comprehensive software asset inventory for license reconciliation or compliance purposes. Provides valuable insight into what software the organization has license for — and what software it has installed but does not have license for, along with how often the software is used.