Junior Project Coordinator/Market Consultant
is a leading global professional services company, providing a broad range of services and solutions in strategy, consulting, digital, technology and operations. Combining unmatched experience and specialized skills across more than 40 industries and all business functions—underpinned by the world's largest delivery network— works at the intersection of business and technology to help clients improve their performance and create sustainable value for their stakeholders. With 505,000 people serving clients in more than 120 countries, drives innovation to improve the way the world works and lives.
.
Interactive Operations is part of Interactive business unit. We are the team of digital marketing experts and we help our clients across industries to drive marketing-led growth while operating cost-efficiently, at speed, and at global scale.
We optimize the digital presence of our clients across core offerings of next generation content, digital marketing services, analytics and programmatic to activate, engage and create unique experience for their customers. Our efforts are aiming at ensuring the optimal return on investment with high quality of converted leads.
What will you do?
In our team, you will coordinate digital marketing activities, across multiple channels. You will work with the Client and teams.
• Act as a single point of contact for the Client
• Coordinate work of a technical team responsible for content integration in CMS systems
• Manage project delivery activities (monitoring progress, performing and overseeing tasks related to project, ensuring projects' quality)
• Identify process gaps and provide recommendations
• Weekly and monthly reporting to the Client
What do we expect?
•
Min. 1 year of professional experience in project coordination (preferably in digital marketing project coordination domain)
•
Excellent English skills in writing and speaking
•
Experience in content management systems and digital marketing or technical background
•
Well-developed presentation skills (client facing and remote)
•
Strong communication skills (via emails, conference calls, face to face meetings)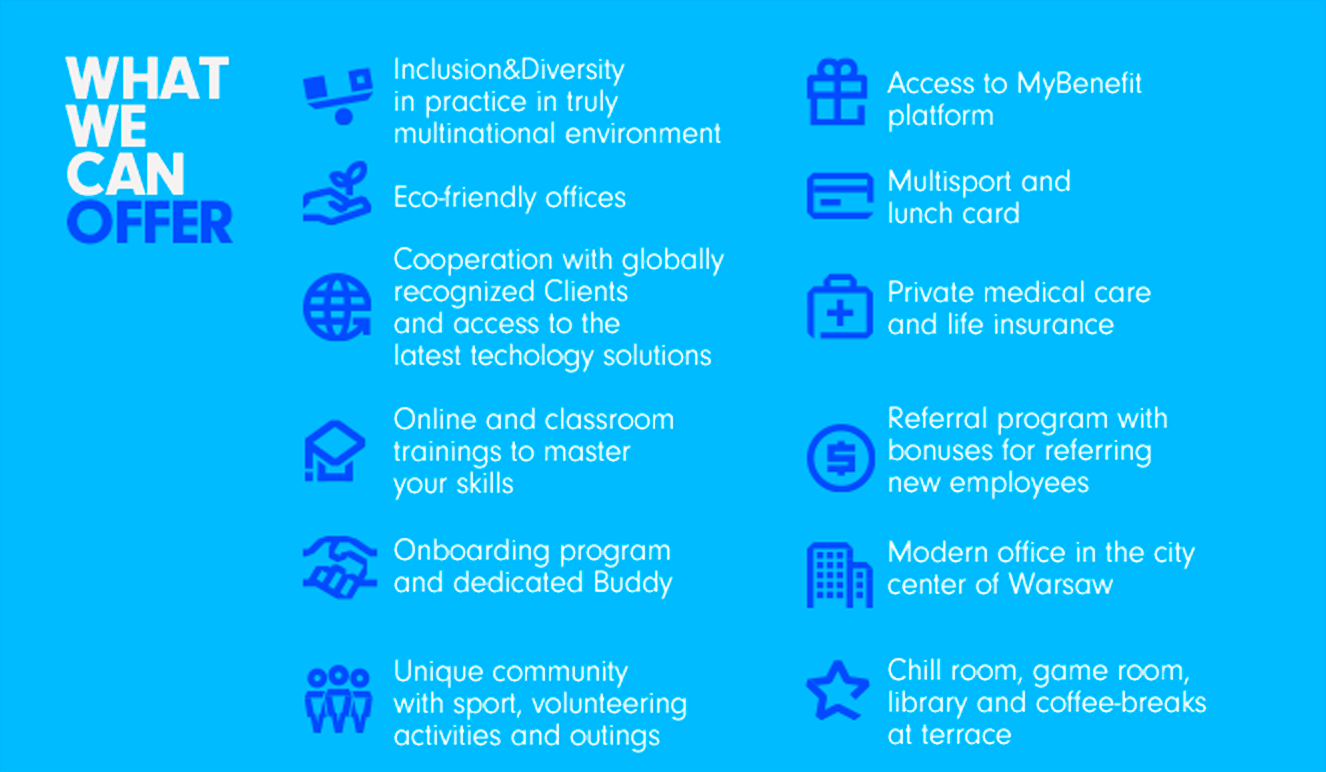 ABOUT US:
Accenture
is a leading global professional services company, providing a broad range of services in strategy and consulting, interactive, technology and operations, with digital capabilities across all of these services. We combine unmatched experience and specialized capabilities across more than 40 industries – powered by the world's largest network of Advanced Technology and Intelligent Operations centers. With 505,000 people serving clients in more than 120 countries, Accenture brings continuous innovation to help clients improve their performance and create lasting value across their enterprises. Visit us at
www.accenture.pl
Accenture Operations
provides business process services for specific functions, including finance and accounting; procurement and supply chain; and marketing & sales. We operate business processes with a combination of talent and data, artificial intelligence, analytics and digital technologies, helping clients to improve their productivity, customer experience and performance.
If you are interested, please send your CV in English by clicking
"apply now!" button
When applying please enclose the below statement:

"I hereby consent to the processing of my personal data by Accenture sp. z o.o. with its registered seat in Warsaw (00-121), at ul. Sienna 39, NIP 526-00-15-900 (Data Controller), in accordance with the Act of May 10, 2018 on the Protection of Personal Data (Journal of Laws of 2018, item 1000) and the Regulation on the protection of natural persons with regard to the processing of personal data and on the free movement of such data, and repealing Directive 95/46/EC (Data Protection Directive), necessary to carry out the recruitment process by Accenture . At the same time, I declare that I provide my personal data completely voluntary. I also declare that I have been informed about my right to withdraw my consent or object to processing of data, request access to them, rectification, deletion, limitation of processing and their transfer, at any time and the right to lodge a complaint to the data protection supervisory authority."


Accenture does not discriminate employment candidates on the basis of race, religion, color, sex, age, disability, national origin, political beliefs, trade union membership, ethnicity, denomination, sexual orientation or any other basis impermissible under Polish law.