OTC Specialist
with French (work location: Gdansk)
Accenture
 is a leading global professional services company, providing a broad range of services and solutions in strategy, consulting, digital, technology and operations. Combining unmatched experience and specialized skills across more than 40 industries and all business functions—underpinned by the world's largest delivery network—Accenture works at the intersection of business and technology to help clients improve their performance and create sustainable value for their stakeholders. With more than 505,000 people serving clients in more than 120 countries, Accenture drives innovation to improve the way the world works and
Accenture Operations
 helps clients achieve new value and productivity from their business processes by applying analytics, process acumen and industry expertise to the transactional data and processes we manage and operate on our clients' behalf.
What will you do?
As Junior OTC Specialist  you will be responsible for:
Providing services to clients and organizations within Order to Cash area
Taking care of different elements of the processes that starts from customers inquiry, sales order to delivery and invoicing.
Working on administration of business processes related to orders for goods or services
Solving problems in accordance with general guidelines
Qualifications - External
What do we expect?
Very good English and French (at least B2 level). 
High accuracy and focus on details. 
Ability to work analytically in a problem-solving environment as well as ability to plan, organize and perform work in accordance with the targets. 
Good knowledge of Excel and Word 
Experience in customer service/ accounting will be an asset 
What can we offer:
Support for your career and competences development – learning from colleagues, courses and trainings, allowing you to boost your skills and become #BEFUTUREPROOF
Using foreign language and new technology solutions daily, cooperating with various Clients 
CSR activities and rich social life – Book Club, International Cuisine Club, Accenture Runners Club, family events, cultural meetings, photography classes, climbing, soccer, swimming
Full work comfort – private medical care, life insurance, access to MyBenefit platform
"I hereby express my consent to process my personal data included in my job offer by Accenture Sp. z o.o. or any other entity of the Accenture group for recruitment purposes and once the recruitment process is closed, I agree that Accenture Sp. z o.o. with its registered seat in Warsaw, 00-121, ul. Sienna 39 or any other entity of Accenture group places and processes my personal data in its database. I also express my consent to sending my personal data to third parties within the Accenture group pursuant to the Personal Data Protection Act of 29th August 1997 (Journal of Laws of 2002, No. 101, position 926 as amended). I submit the data voluntarily. I have been informed about the right of access to the content of my data and about the possibility of correcting them."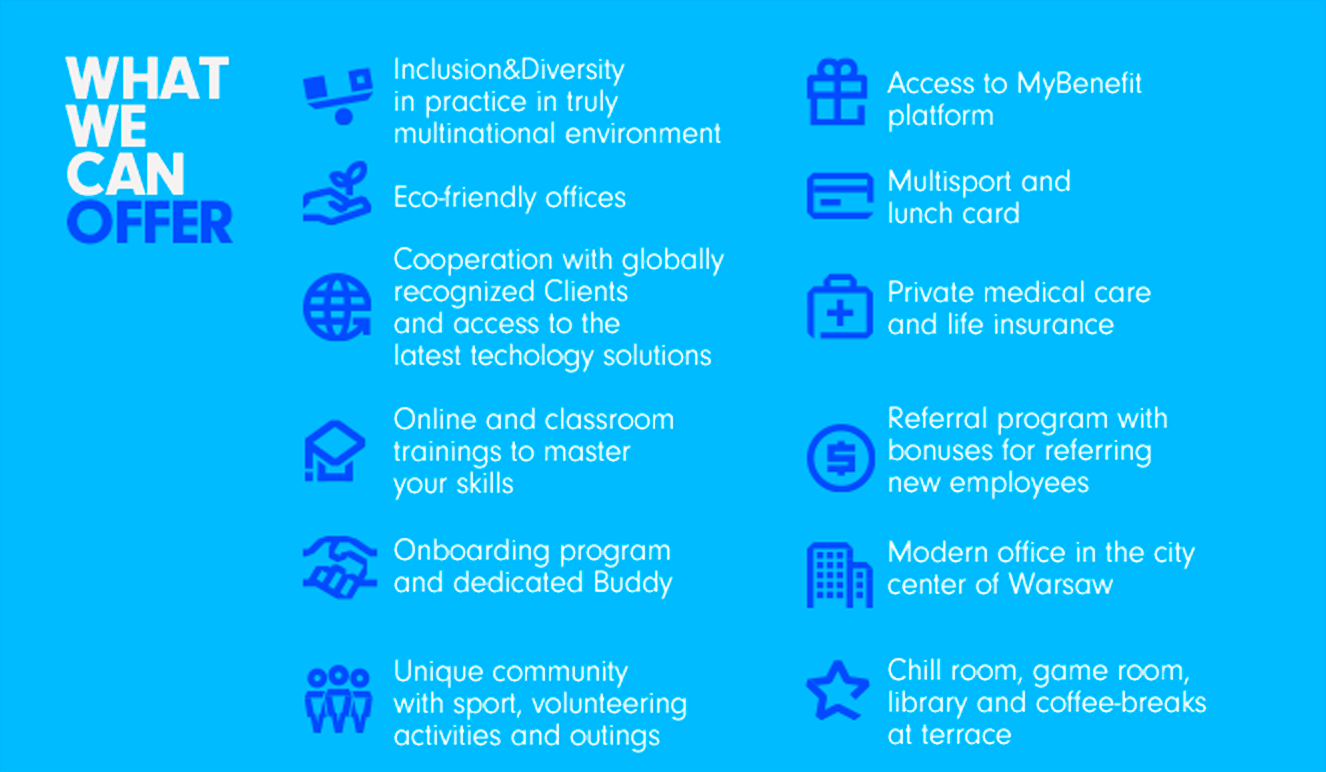 ABOUT US:
Accenture
is a leading global professional services company, providing a broad range of services in strategy and consulting, interactive, technology and operations, with digital capabilities across all of these services. We combine unmatched experience and specialized capabilities across more than 40 industries — powered by the world's largest network of Advanced Technology and Intelligent Operations centers. With 509,000 people serving clients in more than 120 countries, Accenture brings continuous innovation to help clients improve their performance and create lasting value across their enterprises. Visit us at
www.accenture.pl
Accenture Operations
provides business process services for specific functions, including finance and accounting; procurement and supply chain; and marketing & sales. We operate business processes with a combination of talent and data, artificial intelligence, analytics and digital technologies, helping clients to improve their productivity, customer experience and performance.
If you are interested, please send your CV in English by clicking
"apply now!" button
When applying please enclose the below statement:

"I hereby consent to the processing of my personal data by Accenture Sp. z o.o. with its registered seat in Warsaw (00-121), at ul. Sienna 39, NIP 526-00-15-900 (Data Controller), in accordance with the Act of August 29, 1997 on the Protection of Personal Data (Journal of Laws of 2016, item 922) and the Regulation on the protection of natural persons with regard to the processing of personal data and on the free movement of such data, and repealing Directive 95/46/EC (Data Protection Directive), necessary to carry out the recruitment process by Accenture. At the same time, I declare that I provide my personal data completely voluntary. I also declare that I have been informed about my right to withdraw my consent or object to processing of data, request access to them, rectification, deletion, limitation of processing and their transfer, at any time and the right to lodge a complaint to the data protection supervisory authority."


Accenture does not discriminate employment candidates on the basis of race, religion, color, sex, age, disability, national origin, political beliefs, trade union membership, ethnicity, denomination, sexual orientation or any other basis impermissible under Polish law.