No AC
This is a feature usually pointed out by Americans, who are used to having air conditioning in almost all facilities. There is a relatively small number of houses in Poland that have AC – we rely on good old drafts for getting some cool air inside during heatwaves. As extremely hot temperatures occur only for a few days or maximum weeks per year, there is no need for that, but of course it is changing and many new flats or houses are equipped with necessary devices.
Drying racks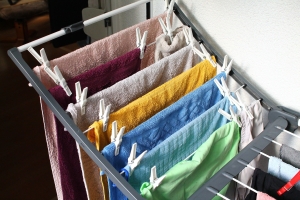 Automatic drying machine? No, thanks, not in Poland! Actually it is not obvious why they are so unpopular in here, maybe similarly to standalone bins there is not enough space for them in tiny Polish apartments. Portable drying racks, on the other hand, can fit anywhere! You can put them on the balcony on a sunny day or keep inside if there is a need for that. You will find one tucked away in almost every Polish house, unless somebody has a real laundry room where they also dry their clothes.
Firanki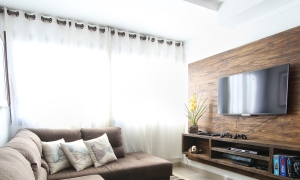 Covering your windows? Some nations are for, some are against this solution (the Dutch – we are looking at you!). Poland, however, has worked out an in-between solution – we have firanki, which are usually white and semi-transparent laceworks that cover the entire window. Unlike courtains, firanki are a bit see-through and their aim is not to protect you from the sun. One may say they serve as a decoration first, but nowadays many people abandon this Polish way of window-covering.
Trash bin under the sink
Whenever you visit a Polish house and you want to throw some rubbish out, you may be right to look for the trash bin in one place – under the kitchen sink. In Poland, this is the usual place for storing waste. As Polish flats and houses tend to be quite small due to quite a high density of population, kitchens are also very condensed. The cabinet under the sink is usually full of piping and naturally seemed perfect for storing bins. Of course you may encounter standard standalone bins, but is it still a fully Polish house you are in?
Slippers
Last but not least – a fan favourite – Polish kapcie (English: slippers). It is polite in Poland to take off your shoes and your hosts do not want you to feel cold – so they may offer you a pair of slippers previously worn by other guests. Poles usually have a selection of slippers to choose from whenever somebody visits them, but the idea is slightly… controversial. Just go with the flow, embrace the fact that your friends do not want you to catch a cold!