Western tradition
As a rule, Halloween is not a Polish tradition and it is only remotely connected to other pagans rituals of different Slavic nations. Yes, they all focused around death, but Halloween as we know it originated among Celtic tribes and now is considered a solely Anglo-Saxon holiday. Were it not for globalisation, Poles would still be more likely to celebrate their own ancient holidays. What would these be?
If not Halloween, then what?
Dziady would be the Polish answer to Halloween, although this ancient Slavic feast is far from being popular in any modern sense. Its traces can be found in Romantic Polish literature, when one of Poland's greatest poets, Adam Mickiewicz, described an ancient feast for the dead, taking place in a secluded chapel on a cemetery. This depiction does send shivers down one's spine, definitely more than dress-up parties in Northern America nowadays!
Trick-or-treating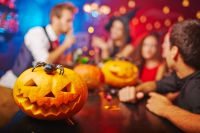 However, with the arrival of mass media, TV, films and other Western influence, those fancy-dress parties had to appear in Poland eventually. Is it mass-scale? Definitely no, but it is gaining popularity, especially among the youth, who naturally prefer fun Halloween-themed parties to more sombre Polish traditions of early November.
Poland also does not have the tradition of trick-or-treating, but again, some children started to introduce it in their neighbourhoods. It is possible that this will spread wider, as Halloween is widely discussed in primary schools with pupils during obligatory English lessons.
Pumpkins
The most popular Halloween symbol is a carved pumpkin serving as a lantern. Once again, Poles do not put Jack-o'lanterns outside their houses, but you may have seen more and more of them in shopping malls or at English schools. Pumpkins are not even European vegetables; they were brought to Poland long after Columbus' discovery, in the 16th century, but now some Polish farmers do produce pumpkins as well.
So what are your thoughts – should Poles adapt this new tradition or stick to their old holidays? Have you ever witnessed Halloween celebrations in Poland?