1. Piernik (gingerbread)
We start off with a truly universal gift idea. The delicious Polish gingerbread, known here as piernik, has been the symbol of the city of Toruń since the medieval times. If you happen to stay there, you are bound to buy loads of different kinds of pierniki (plural of piernik). Cakes or cookies, plain or decorative, hard as a nut or soft as a sponge – the selection is simply vast. Luckily for all of you, they are available in shops throughout Poland and easy to get at every Christmas market you can stumble upon. If you are looking for a safe and traditional gift – you have just found it.
2. Bursztyn (amber)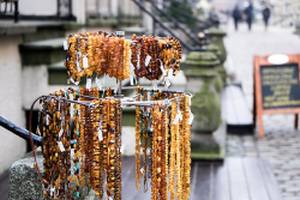 Photo: Amber jewellery stall in Gdańsk
Your mum, girlfriend or mother-in-law will be in heaven when she receives a piece of jewellery with amber in it. This warm-coloured stone has been known for ages as the Polish gold and is still admired by tourists, especially in the city of Gdańsk. If you happen to be based there, you are all set. There is a variety of rings, bracelets and earrings to choose from everywhere you go. But generally, you will find amber jewellery at every jeweller's in Poland, so get going!
3. Bombki (baubles)
Poland has been leading in the production of Christmas tree decorations for many years. Glass baubles are one of the most characteristic things to find around here in December. You can buy them in sets or as a single piece, premade or customised on the spot. Many of them are small masterpieces, which can decorate a tree or stand on their own on the mantelpiece. There is only one small issue – be careful while transporting them.
4. Fryderyk Chopin CD
The most famous Polish composer of all times is here to make your Christmas more classy. This is a gift for music lovers who appreciate the classical piano sounds. Polish shops offer a variety of CDs with Chopin's music, so no need to worry about accessing them. Alternatively, you can look for a recording of traditional Polish Christmas carols.
5. Sękacz (tree cake)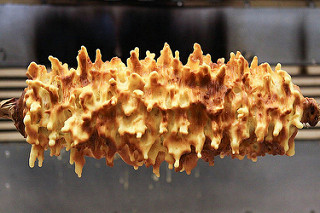 Photo: Sękacz in the making
This can be an impressive gift that can easily compete with a Christmas tree thanks to its shape. Sękacz, which is often described as a tree cake, is a delicious treat for anyone craving sweetness during Christmas. When wrapped in festive packaging, it looks really majestic and makes an elegant present. A traditional sękacz is easy to get in the east of Poland, but everyone who has tasted it will confirm that it is worth looking for it in other parts of the country as well.
6. Miód (honey)
Another golden oldie (literally!). This beautifully yellow product is very popular in Poland, where it is often used as a sweetener, medicine and delicacy at the same time. Polish countryside is full of beehives and our honey is produced in a very eco-friendly way. Christmas packaging will make it look like a luxurious golden gift, a delightful sight underneath the Christmas tree.
7. Polish poetry
Poetry collections make a perfect gift for the soul. Every lover of literature will enjoy good Polish poems translated into English or your native language. For starters, try Wisława Szymborska or Czesław Miłosz – Polish Noble Prize winners. Their poetry is modern and universal at the same time. Most importantly – it has been translated into many languages.
8. Bolesławiec pottery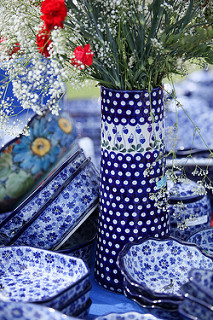 Photo: Pottery set from Bolesławiec
The south of Poland boasts a centuries-long tradition of producing the most unique stoneware in the country, in the town of Bolesławiec. These characteristic blue and creamy-white pieces are easy to identify and, what is most impressive, hand-made. You can choose from plates and dishes, cups and mugs, sugar bowls, tea pots and many, many more. Easily one of the most popular souvenirs.
9. DVDs with Polish cartoons
This one is for the kids! During the grey times of the communist era, Polish kids were cheered up by some lively local cartoon characters, such as Reksio the dog or brothers Bolek and Lolek. These classic films are now available on DVD and they are a joy to watch. They usually do not contain spoken dialogue tracks, which makes them perfect for kids all around the world, as no translation is needed. Introduce your children, nieces or nephews to these beautifully animated heroes – they will love them.
10. Żubrówka (Bison Grass Vodka)
This gift, on the other hand, is certainly not for the kids. Foreigners are usually happy with any alcoholic beverage from Poland, but Bison Grass Vodka is the go-to gift when you find yourself in the trouble of last-minute shopping. Used for making drinks with apple juice, this vodka will be a hit at any New Year's party. One drawback - it is not a perfect souvenir as it disappears too quickly!
That's it for our list! We hope that you will be able to use some of the ideas and bring the magical Polish spirit back home. Let us know in the comments section below whether you have tried any of the above or if you have something to add to the list. Be quick, Christmas is coming!

Photo credit:
Sękacz taken by Mariusz Cieszewski, Polish Ministry of Foreign Affairs
Bolesławiec pottery taken by Mariusz Cieszewski, Polish Ministry of Foreign Affairs