1. Love bridges
Let's kick it off with the obvious ones – love lock bridges. We all know them from all over the world, and Poland is no worse. Whilst they pose danger, bring controversy and may result in collapsing under the weight of solid padlocks symbolising your love, they are still cherished by lovebirds in many countries. In Poland, the arguably best-known love lock bridge is located in Wrocław (Tumski Bridge), while Kraków's Kładka Bernatka is probably its biggest rival for the title.
2. Polish castles & palaces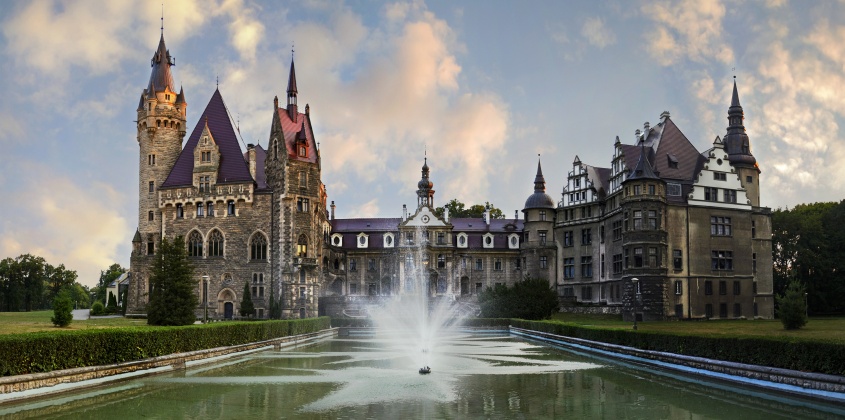 Don't get us started – these places are made for Valentine's Day celebrations. Not many of them are private or difficult to access, as such palaces in Poland are very often converted into hotels, museums, or restaurants, and open to the public. Make sure you check out the impressive Moszna castle (pictured above), often featured as one of the most beautiful palaces in the world, or the Książ castle. This is where you feel like a Disney prince or princess!
3. Kazimierz Dolny
The town of Kazimierz Dolny is THE destination for a romantic getaway for Polish couples, so why not follow their footsteps? Kazimierz thrives on tourists, but at the same time it managed to keep its charm fresh. It is full of lovely townhouses, little streets, restaurants, and SPA retreats, all of which is surrounded by postcard-worthy views of the hilly landscape. A must-see.
4. The Sopot Pier
The longest pier by the Baltic Sea – and a walking spot favoured by couples, tourists, families with kids, teenagers… well, everyone. Although you need to buy a ticket to get there, Valentine's Day is luckily off the season, so the entrance is free. You can walk the whole half a kilometre of the pier and enjoy the sea breeze with your significant other.
5. Old Towns of Polish cities
Whether it is Warsaw, Kraków (pictured right), Lublin, Wrocław, Poznań, or a little town somewhere nearby… they are all charming and extremely romantic. Little nooks, hidden staircases and arcades, cobbled streets, and old city wall ruins right outside the market square – that is what we all live for on Valentine's Day!
6. Lanckorona
Similarly to Kazimierz Dolny, Lanckorona is another spot that needs to be distinguished as a romantic destination. It should be of interest to any of you based in Kraków, as Lanckorona lies only an hour drive away from the city. It is a picturesque village, which used to be a town back in the Middle Ages. Nowadays, thanks to its peculiar architecture (just see those houses!) and a beautiful landscape seen from the foot of Lanckorona's castle ruins, it is a weekend destination favoured by many in Kraków.
7. Kazimierz in Kraków
Speaking of Kraków – every couple should have a stroll through Kazimierz, the famous district of Kraków, famous for its Jewish heritage and bohemian vibe. The area that used to be an island, now is part of the city with an abundance of cafes, art galleries, and antique stores, which make you feel as if you were in the heart of Paris.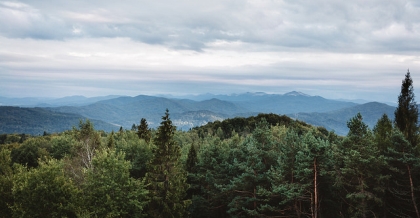 8. Bieszczady
How about some nature for a change? So far you have seen mostly cities and picturesque towns, but Poland's landscape has so much more to offer! The Bieszczady mountains are very dear to all Poles, mainly through a popular saying, which more or less goes as Why not leave it all and go live in Bieszczady? The place is seen as a perfect destination for those seeking refuge from everyday hustle and bustle, but of course you can try other mountains as well!
9. Łazienki Park in Warsaw
Those based in Warsaw probably have seen the city's most important sights, and Łazienki Park is one of them. But it is especially worth visiting with your significant other. In the heart of the city, one can find numerous romantic spots, whether it is summer or winter. In fact, the Royal Park of Łazienki is currently hosting a photo competition – you can still share your romantic moments in Łazienki (read more here).
10. UW Library gardens
Staying in the capital city – one of the most popular places for a stroll are the gardens on the roof of the University of Warsaw library (BUW). If you have any doubts, just go there and we dare you not to meet at least one couple of newlyweds taking their post-wedding photoshoot there!
11. Arkadia
Not far from Warsaw, in Nieborów, there is Romantic Park dating back to the 18th century and started by a Polish aristocrat, Helena Radziwiłł. Its sentimental composition corresponds to the perfect vision of a Romantic park of that time, and even today it charms with old aqueducts and temples buried deep among the trees.
12. Mazury
One of the natural wonders of Poland – the Mazury lake district – is a splendid spot for romance. With all sorts of places, ranging from camping grounds to excellent hotels scattered around the north-east of Poland, it is not only a holiday destination, but also a haven for lovers! Perfect to get to know each other or to pop the question when the time comes!
13. Old Polish mansions
All across the country you can encounter various houses which used to belong to once-numerous Polish nobility. Now turned into SPA resorts, museums or restaurants, with their remarkable architecture and history, they make an ideal weekend getaway. Take a look around in your neighbourhood and find an old dworek to visit. An exemplary address? Chopin's birthplace in Żelazowa Wola near Warsaw.
14. Chełmno
Placed on nine hills, in central-northern Poland, this town closes our list, as it is also the real deal for lovebirds. Its patron is Saint Valentine and the town officials make sure everyone knows that! It all started ages ago, when a church in Chełmno got Saint Valentine's relics, but the fame still lives on. Chełmno is a feast for history lovers and a real picture-perfect little town.
---
Tell us which spot in Poland is perfect for romance! Maybe we missed something important on the list...?