1. Be prepared, act surprised
Although we intend to supply you with this life-saving guide, remember to put on your shocked face upon seeing the very first snowflake. Polish people love being surprised by the weather (Who would expect blizzards in the middle of December?). Not sure whether it's a genuine bewilderment, or just a good topic for small talk in a lift – try to go with it nonetheless. With time, you may even acquire the skill naturally – just wait till next winter and you'll probably be surprised with the heavy snowfall yourself, without faking it.
2. Stock up your freezer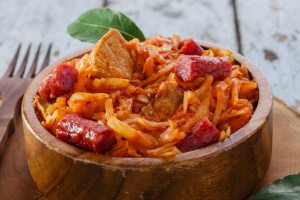 Photo: A bowl of warm bigos is a must
It's freezing outside – but make sure that your freezer is full and ready to go for the next few months! It doesn't matter whether you like to dine out in fancy restaurants or grab a bite in the nearest fast food place – upon coming home on a long and dark evening you may feel a twitch in your stomach. Polish cuisine has a lot to offer, so go ahead and experiment with bigos or pierogi in order to survive the cold. A hearty meal is known to have saved lives before.
3. Save the dates
In Poland you may feel spoiled by having shops open almost 24/7, while in most Western countries this is seen as a luxury. However, do not be fooled – December and January are full of days when you won't be able to pop into the nearest shop for an emergency bottle of wine for your guests. Most of the shops will be completely shut down on December 25th and 26th, as well as on January 1st and January 6th. Two other risky days for shopping are December 24th and 31st. Keep those dates in mind and put some time aside for doing proper shopping earlier.
4. Leave earlier than usual
Everyday commuting may become painful as you scratch the ice off of your windscreen in complete darkness. Once you are done with this, it only gets better. Thin layers of ice, heavy snowfall and lots of mud – you can expect all of these on Polish roads as early as in November. No wonder that traffic jams fill almost every winter day. Leaving extra early may be bothersome, but it won't hurt if you don't want to miss an important business meeting. It doesn't matter if you catch a taxi or go by bus – not many vehicles can effortlessly handle our snow barricades.
5. Go clothes shopping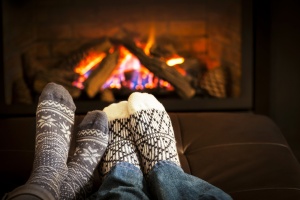 Photo: Don't forget about woollen socks
If you tend to go for the business look – beware. Ladies will need to stock up on thicker tights, while gentlemen may want to consider buing a pair (or more!) of long johns. They will become your best friends during the long wintertime – just don't brag about wearing them underneath your tailor-made suit. Make extra sure your shoes are on your side as well. Fine and smooth soles won't do in our climate. Polish pavements are generally taken care of with appropriate attention, but some slippery patches may hide just around the corner of your office.
6. Check out your medical insurance
Most employers in Poland offer private medical insurance. Don't wait to catch the cold of your lifetime – go and see your M.D. beforehand, just for a routine check-up. If you come from a country with a climate completely different from ours, it is almost necessary to make an appointment and ask for some vitamins or supplements. Do it before it's too late - you won't enjoy googling the address and opening hours when you are burning with fever.
7. Book a skiing trip
You need to be warned about positive things as well! Foreigners find Polish mountains to be thoroughly enjoyable (and easy on your wallet!). A weekend trip with your co-workers may be enough to make you fall in love with our beautiful Tatras. Sliding down a slope or two should make a terrific gateway from the office life.
And while you're in Zakopane (the winter capital of Poland), you will probably stumble upon a ski-jumping contest. Never heard of this sport? Don't worry, you're going to love it. After a few cups of mulled wine you may even admit that it's better than football!
The list could go on, but we'll leave the rest of fun to you. Poland can be a truly magical winter wonderland, so enjoy discovering all of its charms. And if you cannot bear the cold at any cost – just remember that eventually it will pass and keep looking forward to our beautiful spring.