3 questions to Paulina Bąk - Senior Team Manager in R&A Upstream department
1. Why did you decide to work in the Reporting & Analysis Department of Shell?
I began my cooperation with Shell 5 years ago, after 9 years in financial auditing. I knew I was going to continue my career in finance, but I wanted a job position that would combine accounting, finance, financial analysis and budgeting. The R&A department of Shell gave me this opportunity. Shell Business Operations in Kraków is a dynamically developing company, providing a variety of opportunities in areas such as planning, controlling, financial reporting as well as in the roles of financial controllers and reporting managers.
2. What are your duties?
I work in the R&A Upstream department and I am responsible for the Egyptian companies. My duties can be divided into two areas of responsibility:
The financial area, which comprises:
Financial statements preparation (Group Reporting)
Supervision over statutory financial statements
Financial statement analysis
Supervision over books closure
Cooperating with Operators and Auditors
Supervision over management reporting (Management Information)
Financial controls
The Team Management area, which involves overseeing the work of my team, managing my employees' development, setting goals and monitoring their progress. I also focus on cooperation and integration between teams: R&A, other FO departments and financial team in Cairo.
Currently we are strongly engaged in process improvements, effectiveness increase, manual work elimination and automation. We are running several projects in that area. Additionally, we work on quality and effectiveness increase within financial analysis. Here also we run a few projects.
3. From your observation, what skills are required to work in R&A?
It all depends on your job position. From my point of view, the following hard skills are essential to work in the R&A department:
Knowledge of accounting, finance and financial reporting
Analytical skills
Strong Excel skills
When it comes to soft skills, I would mention the following:
Adaptability to change
Ability to work in a dynamic and international environment
Teamwork skills
Ability to build business relationships in a virtual environment
Communication and presentation skills
Multitasking, ability to prioritize tasks
4 questions to Agata Brendel - Senior Team Manager/Legal Entity Controller in R&A Downstream department
1. What are the biggest advantages of working in R&A?
I think that one of the biggest advantages of working in Shell R&A department is the variety of competencies you can gain.
Our team takes care of extensive financial reporting, from the regular month-end closing process, through fixed assets management to controlling. The employees are often encouraged to perform additional roles or to engage in various initiatives. One group takes care of controls, we also have experts in particular subfields and Continuous Improvement initiatives are strongly promoted, so if anyone wants to become a project lead or to engage in any other activity, there is a way.
I believe that if you have motivation and a little courage then you can redefine your initial job role - by undertaking additional initiatives or having regular talks with your manager that can help you refine your strong skills or work on your shortcomings.
Also, the relationship quality between our R&A department, the business finance team and the business itself is of great importance to us. We work as one team, both sides are partnership-oriented, there is no room for the 'client-service provider' type of relationship. I know that not all corporations in Kraków operate in the same way. Of course, such an approach to cooperation brings with different kinds of challenges as well: our roles are more demanding and involve greater responsibility. But that makes the job so interesting, I think.
2. Every job involves some activities that we find more and less enjoyable. Which of your tasks do you enjoy most?
I like working with people, that is why I enjoy watching my team members develop, gain new competencies and grow into new challenges.
I also like challenges related to my role as a financial controller. We are often consulted by businesses or our colleagues from other departments and manage to detect incorrect accounting operations during our analysis. I am a fan of our team's initiative called "Do these data make sense?" and derive a lot of satisfaction from these moments when our professionalism, experience and persistence increase the quality of the financial statement of one of the biggest refineries in Europe.
3. What makes Shell Business Operations a good place to work?
Shell in Krakow employs over 3900 professionals. We are a leading global company and therefore we can offer a lot of career path opportunities.
In the R&A department alone, you can develop as a reporting or analysis specialist; we offer roles as OE Leads or financial controllers. There is a dedicated team of experts who work on specific processes and systems. We also have a group reporting team that takes care of consolidated financial statements of the entire Shell Group, and a Continuous Improvement team.
Each of our employees creates an individual development plan (with the help of their supervisor) to determine their strong points and competencies they want to improve. They can learn which skills need to be developed so that they can apply for their dream role at some point in the future. This opens up great possibilites if you are willing enough to make use of them.
My colleagues who used to work for other companies in the past often tell me that everyone here is friendly and helpful and it feels natural to ask questions or express your opinion, even if it is different from anyone else's. I also value the fact that I am able to manage my professional and private life. There are times when you need to work longer hours, but then we are also allowed to leave early when we have a less busy day. I think this pattern works well for me.
4. Why did you decide to work for Shell?
I have been working for Shell for over ten years now. I think the reason why I have stayed in the same job is that I am provided with the right balance of stability and challenge. We are often told about new improvements or projects, but the company is mature and big enough to handle these changes in a responsible manner and consult employees at all stages of the process. It gives us a sense of security and awareness that our organisation progresses in the right direction. One of our leaders in the R&A department has told me that we should search for solutions which will help us work smarter, not harder. Shell promotes this idea and I agree with it wholeheartedly.
---
Our experts: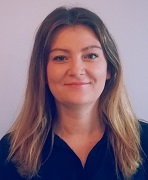 Agata Brendel
Senior Manager, Shell Business Operations
At Shell for over 11 years. Her cooperation with the company began when she was a student of Management and Accounting at Cracow University of Economics. For the first few years, she worked in several departments, including Accounts Payable and Intragroup Settlements department. In 2011, she started working as Financial Analyst in R&A area, where she used to prepare financial statements for Shell companies, before being appointed manager. She is now working as Senior Manager in the R&A Financial Accounting & Controlling department, managing the team responsible for financial and management reporting and fixed assets area. She also acts as financial controller.
Paulina Bąk
Senior Team Manager, Shell Business Operations
She started her career at Shell in 2014 as Business Analyst. For the last three years she has been acting as Senior Team Manager. She worked in financial auditing for 9 years and is a qualified expert auditor. Apart from financial auditing, reporting and analysis, her experience includes various projects and tasks such as due dilligence, company valuation, group company consolidation, project management, process management, data centre migration, accounting system migration, Continous Improvement projects.