Contracting and Procurement General Manager – reflections
Patrick Fraede, General Manager SC Ops IG, UP and Wells, KRK SC Hub

Leading the Contracting and Procurement/Supply Chain Hub within Shell Business Operations in Cracow fills me with immense pride. What started as a vision is now becoming a reality: we have grown into Poland's largest and most dynamic CP/SC Hub, with nearly 600 employees from over 26 countries. Our diverse community represents a wealth of knowledge and is focused on delivering commercial results that surpass expectations. Equally, we are dedicated to powering human lives, achieving net zero CO2 emissions and protecting nature. Passion and motivation embody our teams. We continuously push boundaries and embrace innovation at every opportunity. If you're seeking a workplace that ignites your ambition, join us in shaping a brighter, greener future.
---
Can you describe your career in Shell Procurement? What excites you the most?
Ewa Włodarska, CP Commercial Lead, Global Functions



My career in Procurement is a short but exciting journey. It is very interesting to interact with a diverse range of suppliers, understand their capabilities, and work together to achieve beneficial outcomes. Dealing with suppliers and markets from around the world offers exposure to different cultures, business practices, and regulatory frameworks. Global perspective adds a dynamic to the procurement role, and cross-functional collaboration with various internal stakeholders is interesting. It allows to gain insight into different aspects of business, as well as to work closely with colleagues from diverse backgrounds.
Aleksander Dudek, CP Commercial Lead and Legal Liaison IT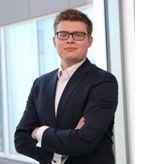 I almost didn't join Shell. At the time when I got the offer to join CP IT team, I was at a crossroads – my previous experience pertained to legal knowledge and background. I worked before in-house legal team. I wanted to try something new related to commercial negotiations, but at the same time I couldn't decide to completely abandon my legal skills. When I named the reason for rejecting the job, Shell made an effort to identify a perfect role for me that combines those two areas: contracting and procurement. That's what excites me about Shell – even though it's a huge company, they take an individual into consideration and try to adjust to the employees in order to make best use of their skills, ideas and potential. I've been in the new role for almost two years now and I can honestly say that it was a great decision to join CP IT team in Shell. I manage my own portfolio of IT contracts, run pre-award processes, conduct commercial and legal negotiations. It allows me to develop my skills and is extremely rewarding.
Julita Kastelik, SC Commercial Lead, Qatar Integrated Gas and Upstream

I joined Shell three years ago as a Commercial Lead for catalyst, chemicals and gases scope. I am responsible for supply of materials and services to Pearl GTL – the world's largest plant specializing in turning natural gas into cleaner-burning fuels and lubricants.
Working for such a big asset is a vast opportunity for development, as I am engaged in building procurement resilience plan for Pearl asset. Complexity of supply chain map includes mainly hazardous materials, with supply chain spread across the globe. What excites me the most is working for this relatively new asset. It allows me to work on implementing new sourcing strategies, expanding supply base as well as offers insight into more transformational initiatives such as digitalization, localization and circularity opportunities. I appreciate the opportunity to work with people from different cultures and professional backgrounds and to learn from their experience.
Tomasz Ruszuk, CP Lead Deploy Digital Enablement

My journey with Shell began six years ago when I transitioned from Customer Operations. It was a significant shift as I came in without a commercial background. My first role was Digital Analyst, where I had the opportunity to work on digitizing Shell's supply chains. This gave me exposure to the intersection of technology and procurement, which has been an area of continued interest for me. I've remained engaged in this sphere, working on various projects aimed at leveraging technology to optimize our procurement processes and create value. What excites me the most about my work is the constant innovation. Procurement in Shell isn't just about sourcing goods and services. It's about redefining how we do so by utilizing the latest technology. This ongoing digital transformation continues to make our processes more efficient – and seeing how these innovations contribute directly to the company's bottom line is very rewarding.
Maurice Edokwe, SC Requisition Gulf of Mexico

My duties are ranging amongst material requisition, purchase order processing, inventory management, vendor evaluation and selection, contract management, and compliance. I have been exposed to different training programs which have affected my professional growth positively. What excites me the most is that in this industry one can be allowed to make a positive impact. Knowing that your work contributes to a greater purpose or serves the needs of others can bring a sense of fulfillment and excitement. Collaboration and networking are a significant reason as well. I engage in building relationships, exchanging ideas and accomplishing goals as part of a team.
Renata Cieśla, SC Manager Operations Shales

I joined Shell six years ago as Procurement Team Lead for Exploration. I work as Operations Manager for Integrated Gas Upstream Canada. I manage the team of procurement enthusiasts that look after several hundred of annual spends in onshore gas assets – but based out of Krakow. We find creative ways of collaboration and remote engagements, using on technology and take personal commitment to work in Canada business hours. It excites me how we build trust with our partners and vendors in Canada market, how we showcase curiosity to understand local context and expectations, how we demonstrate professional expertise and capability to bring options to the table. Finally, I find it exciting to work out those solutions as a team, despite being based on two different sides of the ocean. It's the people who make it happen and I continue to be amazed with all the individuals I work with, those who mentored or are mentoring me – the expertise and values they represent every day accelerates my personal development and supports everybody to be at their best.
---
Can you describe how your daily operational work in Procurement impacts Shell energy transition?
Ewa Włodarska, CP Commercial Lead Global Function

Supplier selection, prioritization which follows sustainable practices and offers energy-efficient products and services are some of the ways we drive the adoption of clean energy technologies and environmentally friendly practices. We are selecting suppliers who use renewable energy sources, offer energy-efficient products, use recycled materials and follow ethical and environmentally responsible practices. Supporting such suppliers, procurement contributes to reducing the carbon footprint and supporting the energy transition. To evaluate the suppliers' commitment to contribute to sustainable development, we add sustainability questions before launching each process.
Aleksander Dudek, CP Commercial Lead and Legal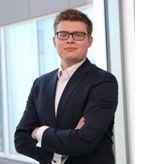 Net Zero goal is extremely important – and you can see it in all facets of our work within Shell. In CP IT sustainability is one of the elements that we look at when we run identification and selection of vendors. Contracts are supposed to contain sustainability clause. Zero-net emission goal we provide to our suppliers (free of charge) helps them track their emissions and plan reductions. The zero-net emission goal is commonly used by our teams and empowers them to calculate the full scope of the emissions. We also use software that makes the routes of Shell trucks or ship lines more efficient, thus shaping better fuel economy and helps to limit the emissions from server farms. It is not just an empty slogan for Shell – when you are in CP IT, you can see with your own eyes the energy transition being implemented.
Julita Kastelik, SC Commercial Lead Qatar

Working as a Lead, I have an impact on Shell energy transition journey by incorporating its elements into sourcing strategies and collaborating with suppliers and stakeholders. From the very start of the collaboration our suppliers are encouraged to join Zero Net Emission goal. This digital platform enables suppliers to track emissions and plan decarbonization ambitions. I investigate my portfolio from different angles in order to find the opportunities to reduce emissions and limit waste. Those opportunities can range from optimizing the transportation or looking for circularity opportunities, to working on qualifying specs that can ensure higher performance and longer operational lifetime. I gather the ideas internally and externally by keeping strong relationships with suppliers and participating in industry events.
Tomasz Ruszuk, CP Lead Deploy Digital Enablement

I work on initiatives aimed at optimizing our procurement processes through the application of technology. This work impacts the energy transition in several ways. First, by making our procurement processes more efficient, we help reduce the overall operational costs and time. Both of those resources can be reinvested into Shell's renewable energy projects. Digitization of our supply chains has allowed us to identify and partner with suppliers who align with our environmental goals, whether those goals involve sourcing materials for renewable projects or ensuring we work with suppliers who adhere to our stringent sustainability standards. An important aspect of our work is the data analysis enabled by digital transformation. This gives us critical insights into our carbon footprint across the supply chain and helps us develop strategies to minimize it. Through these efforts, procurement directly contributes to Shell's ambition to be a net-zero emissions energy business by 2050 or sooner.
Maurice Edokwe, SC Requisition Gulf of Mexico

My daily activities involve material requisition, purchase order processing, inventory management, and vendor evaluation and selection. Those processes are crucial to ensure the continuity of essential business functions during the transition period. They also contribute to maintaining stability and preventing disruptions that could negatively impact customers, employees or overall productivity of the company.
Renata Cieśla, SC Manager Operations Shales

I'm well versed in energy transition topics in Shell. In our assets in Canada, we produce mainly natural gas, which is the cleanest, natural burning fuel – and a bridge from the oil energy to the times when renewable energy supply will be enough to provide all the energy the world needs. We sign our contracts and execute them in a manner that ensures our goal of net zero emission. We support various projects for restoration of natural habitat. We purchase more efficient and cutting-edge technologies or install solar panels on our assets. Finally, we encourage vendors to join our Zero Net Emission program focused on reducing emissions across the Supply Chain. Our mindset of continuous improvement and the ability to challenge inefficiencies or redeployment of materials –all those factors come together and make an impact.
---
What are the development or interesting procurement projects you are currently involved?
Ewa Włodarska, CP Commercial Lead Global Function

The field of procurement is diverse – this is what makes the projects interesting. I implement assistance programs for employees. It is a satisfying experience when you know that you contribute to the wellbeing of people.
Aleksander Dudek, CP Commercial Lead and Legal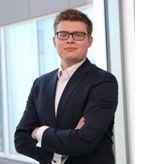 I always look for ways to improve how we do our job. When I have an idea, I am encouraged to take it to the line manager to see if it can be implemented. Such initiatives are recognized and encouraged. If I had to choose out of all those projects that I'm currently leading, the two most interesting are those involving legal simplification and unified portfolio approach. The first one focuses on the language of the contract template used by Shell. The second initiative focuses on how we approach our job of managing our individual portfolios of contracts. It's a huge opportunity, because it allows us to upskill ourselves, and at the same time, to provide value to the portfolio.
Julita Kastelik, SC Commercial Lead Qatar

In Pearl GTL, we work on bringing to live the vision of Asset of the Future. This is accomplished by ensuring supply chain resilience and independency, achieving zero waste goal and moving towards industry standards in respect to generating shareholder value, powering lives, achieving net-zero emissions and respecting nature. We look for different ways to optimize our supply chain. The example can be localization of chemical blending facilities with our key suppliers in collaboration with Qatar Energy. One of the main projects I was working on recently is reclamation of precious metals from catalysts. It was successfully implemented and will be continued for wider portfolios. I also collaborate with stakeholders on specs review and standardization of materials.
Tomasz Ruszuk, CP Lead Deploy Digital Enablement

One of the most exciting projects I'm involved in is an initiative aimed at integrating Artificial Intelligence into our contract negotiation processes. The goal of this project is to leverage AI technology to analyze contract terms, predict negotiation outcomes and suggest optimal negotiation strategies. This cutting-edge initiative is a first for Shell and I'm thrilled to be a part of the team pioneering it. We believe that this project will set a new standard for efficiency and strategic decision-making in procurement, making a tangible impact on Shell's overall business performance.
Maurice Edokwe, SC Requisition Gulf of Mexico

In Agile under vendor performance, we work on achieving goals like contract productivity, framework guide, updating guidelines for Ariba Suppliers regarding order confirmation and amendment.
Renata Cieśla, SC Manager Operations Shales

I am super excited about the Tree Planting Project! We are just finalizing the contract – we will plant 100 ha of trees around our gas assets in Canada. During my first visit to the assets in Canada I was amazed how our plants are naturally blended with the ecosystem: the underground pipelines surrounded by forests and pure nature. My team and I also work also on implementation of latest version of S4H, and we are super excited to see what this new experience will bring.
---
There is little doubt that finding ways to reduce the negative impact on the nature is becoming more and more crucial. Shell and its people are dedicated to the goals of sustainability and zero net CO2 emission. One might say that the environment is Shell's core value – whether it's the natural environment or the environment of the employees in the workplace.
To learn more about Shell and the opportunities in the company, visit: