PwC's annual Women in Work Index presents female participation and empowerment in the labour market across 33 OECD countries, taking into consideration such indicators as: gender pay and employment gap, female full-time employment and unemployment rate as well as labour force participation rate.
This year, Poland was once again ranked in the top 10 of countries that are considered best for female employees. The first two positions on the Index were invariably occupied by Nordic countries - Iceland and Sweden, known leaders on gender equality. The third place in this year's ranking was taken by New Zealand, while Poland moved up from 9th to 8th position compared to 2018. With a gender pay gap of only 5 per cent and a low unemployment rate, the Polish labour market seems attractive for female workers. As can be read in the report, "since 2000, Luxembourg and Poland have made the largest improvements on the Index". Luxembourg rose by 17 and Poland by 11 positions in the ranking over the last two decades.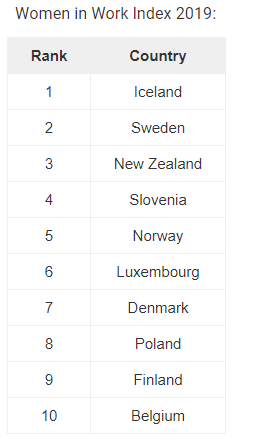 However, as noted in the PwC's report, while gender equality in the workplace has definitely improved, it is far too early for complacency: "women in the OECD still face significant challenges and inequalities in the workplace". Poland, for example, has one of the lowest rates of female labour force participation in the OECD - only 63 per cent, compared to Iceland's 87 per cent. Therefore, PwC has once again stressed the importance of women's economic empowerment:
Everyone has a stake in ensuring women have equal opportunities in the world of work. The evidence is clear. Our Women in Work Index shows that improving female participation in work across the OECD could boost OECD GDP by US$6 trillion, while closing the gender pay gap could boost GDP by US$2 trillion.
---
Source: Women in Work Index 2019