Reason No.1: The Lush Leaves

With the nature painted in russet, crimson and golden hues, autumn is perhaps the most picturesque period of the year. Interestingly, this change of color is due mostly to the fact that as nights grow longer and colder, the production of chlorophyll, the pigment responsible for the green color of leaves, slows down ­– until eventually, it stops entirely. As chlorophyll gradually disappears, the other pigments present in leaves (carotenoids – which give brown, orange, and yellow colors, and anthocyanin, which provides hues such as reds, purples, blacks or blues) become more visible. This results in the variety and brilliance of colors of the autumn leaves, which look as wonderful decorating tree branches outside, as they do in indoor decorations.
If you wish to gather some leaves to glamorize your apartment and, perhaps, are thinking of testing your Assassin's Creed gained climbing game, you are barking up the wrong tree. No need for heroic stunts – Mother Nature has got you covered. As the days shorten and the exposure to sunlight wanes, the veins that transport the fluids in and out of a leaf slowly narrow and, at the last stage, clog. Once the connecting tissues between a tree branch and a leaf are closed off, the leaves shall fall.
Now that we have got our leaves all fancy-colored and safely ground-level-bound, here are some ideas of what you could do with such a bounty:
---
Decorate your home
Leaves will adorn your apartment with warm, earthy colors of deep oranges, rich reds, and golden yellows. You can put leaves in vases, incorporate them in wreaths, press and dry them inside old books, etc. This way you can transform your living space into a cozy autumn haven.
---
Do some arts and crafts
There are many ways in which you could turn a leaf into an innovative crafting tool. You can paint fallen leaves with colorful dyes and press them to a paper or material, you could put a sheet of paper over a leaf and rub over it with a crayon to see the shape and patterns of the leaf emerge. Finally, you can arrange to shape a different animal, using acorns or rowanberry for eyes and noses. Any children in your family will love it – and in all probability, so will your inner child – so if push comes to shove, you can ditch the kids and show them how it's done.
---
But NEVER: Leap into a leaves pile
This is a little disappointing, really. After all, if you can do a snow angel, freezing your behind in literally frozen water, it seems almost unfair that you should avoid doing something similar in autumn. Those colorful leaves, stacked in perfect plies, might almost seem to be telepathically nudging you: "Come on, man! Jump in! You know you want to…".
Alas, this is precisely the thing you should try to avoid.
First of all, there is a plethora of harmful bacteria, like mold, that can be found most commonly if the leaves are wet, and which can be dangerous for anyone with a mold allergy or asthma.
Secondly, hiding in the leaves are the ticks, perpetually out for blood.
You should also be mindful of sharp sticks and stones, which contrary to the popular saying, are unlikely to break your bones, but can definitely hurt you.
Again, this is a case where Assassin's Creed would lead us astray. If Ezio Auditore da Firenze existed in reality, after performing the iconic Leap of Faith he would spend the next several minutes spitting out moldy leaves and shaking off small pieces of wood from his fancy Venetian silk assassin frock. Then again, in reality, there is such a thing as gravity, so the Ezio-shaped splatter on the pavement would be beyond such earthly concerns.
---
Reason No.2: The Smashing Squashes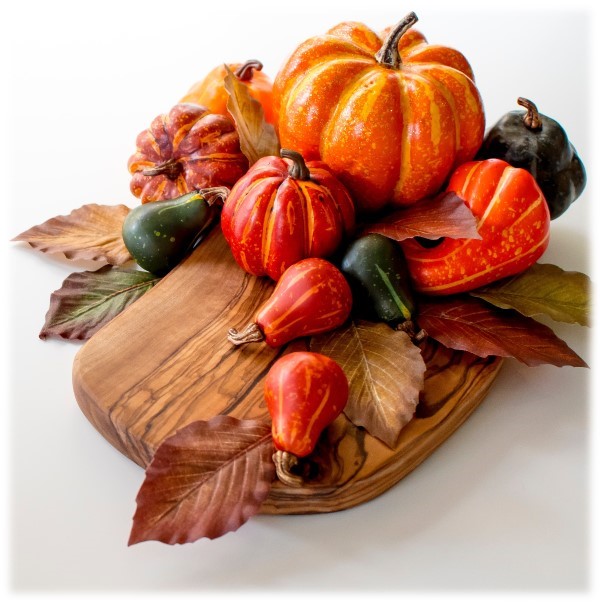 Squashes, aka pumpkins, are a vegetable many of us consider to be an unofficial herald of autumn. Between August and October comes pumpkin harvest, and since that moment those corpulent vegetables are an inseparable part of the autumn atmosphere. They tempt us from the shelves of grocery stores, beautify many cafes and restaurants, and greet us with wicked little smirks of jack-o'-lanterns during Halloween.
If you've always liked pumpkins but struggled with what to do with them, here are just some of their many possible uses:
---
Decorate your home
As in the case of autumn leaves, pumpkins can have a great decorative value. They come in many shapes and colors, from the traditional orange hues to whites, yellows, light and dark green. They can even have patterns, like stripes (for example: Italian strap or delicata squash).
If you are craving to do some carving, you can grab some candles and transform the hollowed pumpkins into atmospheric lanterns.
Whatever kind of pumpkin you decide to use, big or small, red or green, whether they are pretty, whole and undisturbed, or hollowed and pretty disturbing – the squashes will certainly look smashing.
---
Do some cooking and baking
Pumpkins are highly nutritious: they are fairly low in calories and are a great source of provitamin A, C, and E, which can boost your immune system. On top of that, squashes make for an amazing culinary ingredient: from creamy soups and curries to aromatic cakes and spiced lattes ­– pumpkins will enrich your dishes with creamy structure, smooth flavor, and vibrant color. Are you pumped up about pumpkins yet?
---
Discover the not-so-ancient art of pumpkin chunking
But what should you do if you don't really enjoy the taste of squashes, and their carved little faces give you the creeps, so pumpkins are literally the last thing on earth you would decorate your home with? Well, you will be glad to hear that you are not alone, my friend.
Some like-minded people came up with an idea of how to dispose of those orange abominations. The traditional horror movie logic would suggest to "kill it with fire", but as we have just recently established, fire wouldn't quite work on pumpkins ­– it would only make them into lanterns. Or cakes. You get the drift.
And here the pumpkin chucking comes into play. It's a long established noble discipline of hurling a pumpkin into the distance and then watching it fall and splatter spectacularly against the ground.
This satisfying sight can be mostly admired during many autumn competitions, though admittedly, those are most popular in the USA, where there is a surplus of this produce left from Halloween.
The best part is that it's not a human hand that smashes the squashes. The pumpkin chuckers are quite literally going medieval: they use devices such as slingshots, catapults and trebuchets. This gives the projectiles a greater velocity, which makes for quite a flight and quite a sight. The world record for the longest pumpkin ­shot is 1690,24m (5545,43 feet), as has been recorded in Guinness World Book. This distance is an impressive feat given that squashes can grow to monstrous sizes – according to said record book the heaviest one recorded weighed 1,226 kg (2,702 lb 13.9 oz).
Seemingly, whether you are growing or throwing pumpkins, one rule remains constant: "Go big or go home." Just – if you do end up going – do not try this at home.
---
Reason No.3: The Marvelous Mushrooms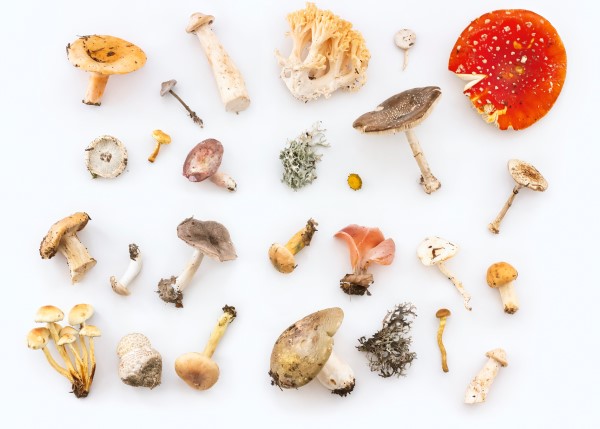 Come September, the forests in Poland become abundant with numerous types of mushrooms – and with people trying to pick them. From children barely big enough to hold a basket, to veteran foragers in the form of springy grandmamas and grandpapas ­– mushroom hunting is an activity accessible to all, and it can be a great idea for a family outing. It's also a wonderful way to connect with nature and can turn a simple walk outside into a fun treasure hunt. You could even hold a small competition ­– thought if you really believe you can outmatch grandma Lydia and her supernatural mushroom-detection senses, you got another think coming.
"With great power comes great responsibility" and in this case grandma Lydia is responsible for delivering some righteous ass-kicking, all in the service of the noble cause of curbing your hubris.
Said theme of responsibility seems to be a key factor in mushroom picking.
It goes without saying, but still seems worth repeating: mushrooms can be inedible or even poisonous. Therefore safety and common sense when foraging are paramount.
First of all, you should consult a field guide. It will give you detailed instructions on how to identify different kinds of mushrooms, which ones to pick, and which to avoid.
Secondly, it might be helpful to seek out advice from an experienced mushroomer and obtain some in-the-field knowledge.
Thirdly and lastly, "when in doubt, go without." Should you be in any way unsure if a mushroom you collected is edible, best to throw it out. You don't want to end up in a hospital or worse.
Mortal peril aside, here are some fun ideas of what you could do with your hard-earned gains:
---
Do some cooking
Mushrooms make for a marvelous cooking ingredient. They can enrich many a dish: from sauces and soups to more complex traditional Polish plates, like bigos (Hunter's Stew) or pierogi.
---
Try to dry
Drying is a great way of preserving mushrooms for longer periods. This also makes them easier to store – as the vegetables lose water, they naturally shrink, which allows you to place more of them in a container. You can also grind the dried mushrooms to a powder, which can later be rehydrated. This will make a wonderful addition to any creams or sauces you might want to make in the future.
---
BUT: Mind the magic mushrooms
The magic of fungi has little to do with the poetic description of autumn flora. Magic mushrooms contain hallucinogens ­­­– usually psilocybin and psilocin – which upon consumption might cause one to experience various optical or auditory illusions. They are officially considered as a psychedelic drug, which means that they can alert one's thinking processes, emotional state and even one's sense of time.
Interestingly, some recent clinical trials have shown that magic mushrooms, when used in therapeutic setting, can have a positive and long-lasting impact on people suffering from treatment-resistant disorders, such as depression, anorexia, anxiety, substance abuse or even post-traumatic stress disorder (PTSD).
The clinical results seem to be very promising, but still, this is the kind of fungi you might not want to gather with your family, unless you wish to give a family trip quite a different dimension.
---
With its lush leaves, satiating and sometimes scary squashes, and marvelous and mayhap magical mushrooms, the fall is a season easy to fall in love with. Its rich bounty can be admired adorning the world outside, but it can also find a decorative and culinary application in your home. Still, leafy leaps of faith, pumpkin chunking and mushroom tripping may be something you might not want do on your own. Sure, some people could argue that "what doesn't kill you, makes you stronger"­ – as proclaims the popular aphorism attributed to Friedrich Nietzsche, a 19th century German philosopher. Then again, Nietzsche had never faced a pumpkin-launching catapult. He would have reconsidered.
---
If you liked this article, you might also enjoy: