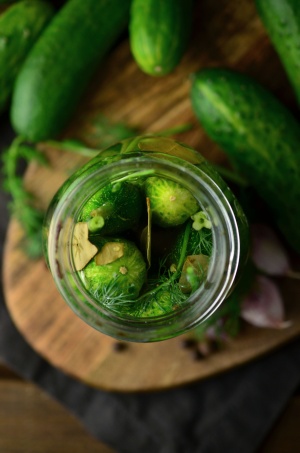 1. Making jams, preserves and pickles
Autumn is your last call to get ready for dark winter nights (it is an exaggeration, find out more about wintertime in Poland). Many Polish people think that having a good supply in the pantry is one way to survive the cold and keep the spirits high. And is there anything better than homemade jams, pickles and other kinds of preserves? Throughout summer and autumn months one will find many Poles stuffing jars with cucumbers, mushrooms, peppers, as well as boiling huge pots of fruit with sugar to make delicious jams or marmalades. Just about right for the arrival of winter!
2. Mushroom picking
We have already covered that one, but it should never be omitted. Mushroom-hunting is a favourite activity of whole families – starting from the young ones and ending with the elderly! Once your fungi are picked, washed and cleaned, they can be pickled (see point 1.!), dried or eaten immediately after the afternoon in the forest.
Autumn strolls
Forests and parks in Poland are at their peak from mid-September onwards. The landscape is truly magnificent and makes for a typical picturesque fall vignette, full of shades of gold, red, orange, brown and yellow. Polish children are encouraged to use the autumn gifts of nature to enhance their creativity and manual skills – many generations have warm memories of playing with chestnut figures and dried leaves.
Garden work
Not many expats decide to buy a house with a huge backyard straight away, but if your Polish friend rejects your invitation for a mulled wine on a late autumn evening, you may suspect they are actually busy with some housework. Winters in Poland can be tough and house-owners want to make sure that their property is guarded against that, especially if they have a garden or an allotment. They need to be cleaned and got rid of dead leaves, branches and trees, and then wrapped or covered where necessary. There is a LOT to do, but many Polish people find these end-of-season activities quite relaxing!
Socialising
No more picnics in the park or beach parties, but autumn makes room for other possibilities. Poles love to gather to play board games (it is a rather big thing right now!) and watch films with their friends, and the cosy cafes, pubs and restaurants start to prepare warm drinks, such as pumpkin spice coffees, mulled beer or wine, hot chocolate… There are so many possibilities for outings with the upcoming 100th anniversary of Poland's regained independence, museum exhibitions and brand new cinema releases!