Pierogi
Let us start with the obvious one. Pierogi, probably the most Polish dish you can think of, need no introduction. These delicious crescent-shaped dumplings come with all kinds of fillings: minced meat, mushrooms, sauerkraut, mashed potatoes or sweetened quark. In warmer seasons they are often served with seasonal fruits like blueberries or strawberries. Poles are so proud and protective of their pierogi, they would not let anyone question their tastiness. There is no need to, though. Pierogi are delightful!
Language tip: pierogi are already plural in Polish, so there is no need to add an the extra "s" at the end of the word.
Gołąbki (Cabbage rolls)
The name of this dish literally translates as "little pigeons" but mind you, it has nothing to do with the said animal. Gołąbki are rolled cabbage leaves, most often stuffed with minced pork and rice. They are usually boiled and topped with home-made tomato sauce and served with mashed potatoes or bread. This hearty meal, though simple, is relished by many.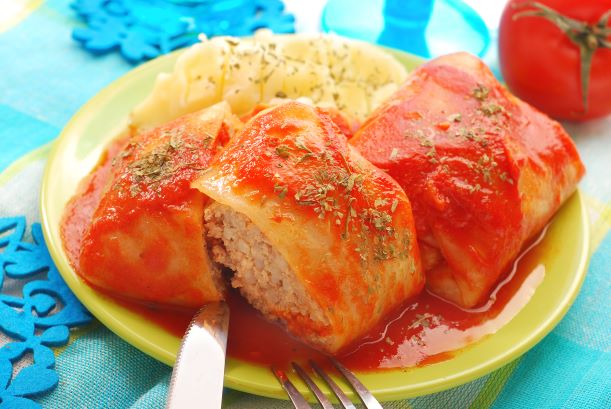 Placki ziemniaczane (Potato pancakes)
If there is one thing you should know about Polish cuisine is that it relies heavily on potatoes. Mashed potatoes, boiled potatoes, potatoes in soups and in dumplings... - the list goes on and on. Apparently, it was King Jan III Sobieski who introduced this nutritious vegetable into Poland in the 17th century. Since then, the country has developed a special liking for potatoes in their countless forms and shapes, including potato pancakes - placki ziemniaczane. No matter if you prefer sweet or sour toppings, you will definitely find a pancake best suited to your taste.
Ogórki kiszone / kapusta kiszona (Fermented pickles / Sauerkraut)
Foreigners unaccustomed to their tangy taste, tend to avoid fermented vegetables such as pickles or sauerkraut. However, not only are they savoured in Poland, but as it turns out, these kinds of foods are beneficial to our health due to their microorganisms – otherwise known as probiotics. Poland must be a very healthy nation then!
Kiełbasa / kotlet schabowy (Sausage / Pork cutlet)
The list of Polish specialities would not be complete without kiełbasa (sausage) or schabowy (breaded pork cutlet). Although the former is widely known abroad and the latter resembles the popular Austrian Wienerschnitzel, they are considered the epitome of Polish food, enjoyed on everyday basis throughout the year.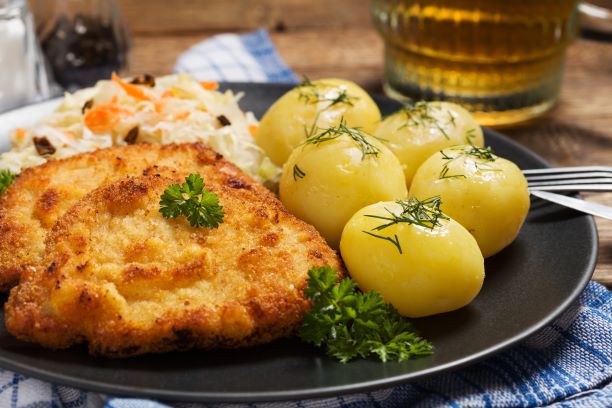 Bigos (Polish hunter's stew)
Bigos contains everything you can think of and more. The dish is usually referred to as the "hunter's stew" in English and it is made of fresh cabbage, sauerkraut (Poles are very fond of their pickled foods, remember?), various kinds of chopped stewed meat (beef, pork, poultry, veal, game...), wild mushrooms and an extensive list of herbs and spices. Also, bigos is often basted with red wine and sprinkled with a handful of prunes or raisins, which give it a richer, sweeter taste. Traditionally, the dish is cooked for at least a few days until it acquires the desirable taste and aroma.
Zapiekanka (Polish-style pizza bread)
Probably the most beloved street food in Poland. Zapiekanka is a baked open sandwich, made from white baguette and similar in style to French bread pizza. It is typically topped with ingredients such as mushrooms, cheese, ham and splattered with ketchup or mayonaisse. Remember - zapiekanka should be eaten only when it is hot and perfectly crusty!
Oscypek
This characteristic, spindle-shaped sheep cheese comes from the Podhale region in the south of Poland. As a rule, it is handmade by a senior shepherd called baca, shaped in a specially carved mould and smoked for days in a little mountain hut. Nowadays, authentic oscypek is granted Protected Designation of Origin status by the European Union and can be made only according to one specific recipe.
Zupy (Soups)
Regardless of the season, no family dinner in Poland can exist without a nourishing soup, be it rosół (broth), pomidorowa (tomato soup), żurek (sour rye soup) or barszcz (beetroot borsch). The most controversial of all, is tripe soup called flaki or flaczki, which is known for evoking two utterly opposite feelings - it can be either loved or hated. Will you dare to taste it and decide for yourself?