Czterej pancerni i pies (1966-1970) – Four Tankmen and a Dog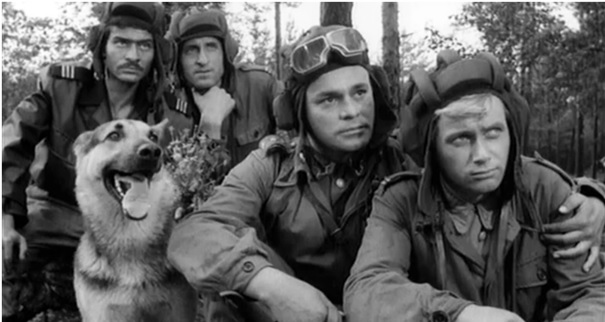 Scene from "Four Tank-Men and a Dog" (TVP1, 1966-1970)
The first position on our list tells the story of the crew of tank T-34-85 No. 102 "Rudy". We follow their geographical journey on the combat route from Studzianki to Berlin, as well as the metaphorical, character journey of Janek Kos, a teenage citizen of Gdańsk who was thrown into distant Siberia by the Second World War. He is joined by his brothers (and sisters) in arms, as well as his faithful canine companion, a German Shepherd called 'Sharik'.
You might be thinking: "A dog in a tank brigade? That sounds interesting and all, but wouldn't it be highly impractical, not to mention – dangerous?" If such a question crossed your mind, you are quite right, sir. But probably, not in the way you're imagining it.
Our hero has to go out of his way to keep his pet safe. ­And given the circumstances, with the war raging and perils aplenty – Sharik sure has his paws full. Yes, as you might have guessed: Sharik the dog is the absolute MVP of the series, the baddest of badasses but the best of good boys, and his actions (and patience) in dealing with his human companions are nothing short of heroic. Truth be told, if showrunners were to create a more plot-appropriate title, the series would be called: "How to Train Your Human".
---
Janosik (1974)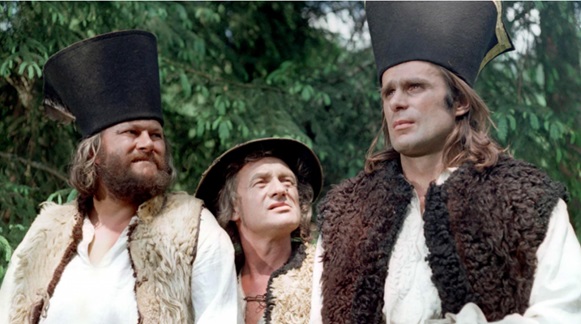 Scene from "Janosik" (TVP1, 1974)
Every country has a folk hero, and surprisingly, many of them are not exactly of the law-abiding kind.
The English have their Robin Hood, the expert marksman, the king of thieves, who with one hand taketh the riches from the nobles, and with the other – giveth them to the poor.
The Mexicans – have the daring and dashing Zorro, so darn charming that he's disarming his opponents either by the sharpness of his rapier, or his wit.
In Slavic countries, we have Janosik – a man-mountain, mountain-man highwayman, so broad in the shoulders that he could chuck boulders, and if that doesn't down his opponents, they still have no chance to resist his smoldering glance.
No wonder then that the TV show about Janosik found resonance with the Polish audience. The TV show pulls us into the time-old tale of a brave but relatable hero fighting against an oppressive regime and stops us from leaving with strategically torn shirts and equally strategically spaced shirtless scenes. You would think that in the cold of the Carpathian mountains, one would take care to wear appropriate warm clothing. You would be wrong.
---
13 Posterunek (1998-2000) – 13th Police Station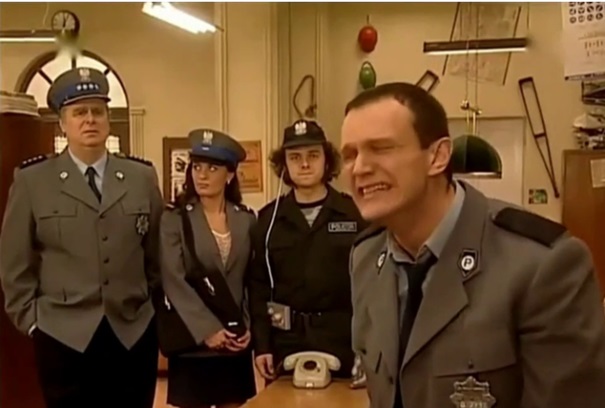 Scene from "13 Posterunek" (Canal+, Polsat, 1998-2000)
In Poland, there are many TV series in the genre of police drama. None of them, however, are quite like the 1998 "13th Police Station".
First of all, this is a sitcom. So, we are not watching our heroes doing any traditional police work, like gathering evidence or putting clues together. And that is a good thing, as the viewers of the show quickly realize that the staff of this particular police station is hardly equipped to run their own lives, let alone a criminal investigation.
The police station is staffed by a group of slightly unhinged, but certainly memorable, and at times even lovable characters. The main hero is a run-of-the-mill policeman, Cezary Cezary (Cezary Pazura) a newcomer in the 13th police station. He is joined by an entourage of eccentric individuals, such as "Arnie" (Piotr Zolt) who tries in actions and appearance to emulate Arnold Schwarzenegger, his role model. The police station is led by people-hating but dog-loving commandant, Władysław Słoik – a role played by Marek Perepeczko, who back in his youth played Janosik, the hero of the previous position on our list. From an outlaw to the man of the law – that is quite a character journey.
---
Świat Według Kiepskich (1999-2022) ­– The World According to the Kiepscy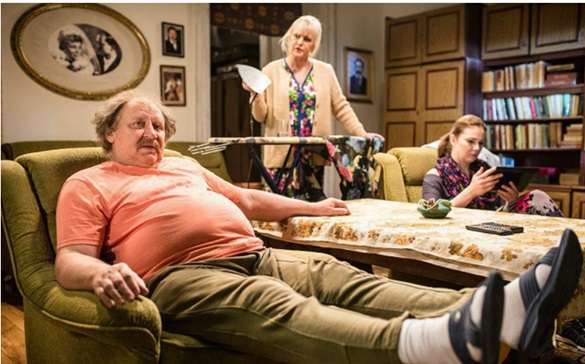 Scene from" Świat Według Kiepskich" (Polsat, 1999-2022)
Spanning over two decades, "Świat według Kiepskich" was one of the longest-running Polish TV series.
It revolves around the Kiepski (a name that could be translated as poor) family and their neighbors living in an old tenement house in Wroclaw. The head of the Kiepski family, Ferdynand (aka. Ferdek), is a lazy middle-aged man whose main goal in life is to avoid any work, often to the point that he steals money from his wife and his mother-in-law, and wastes his days away sitting in his favorite armchair, drinking Mocny Full brand beer and watching TV. Walduś, Ferdek's son, shares his father's love of alcoholic beverages and is interested in bodybuilding, while the daughter, Mariola, is a vain airhead who only cares about boys. The whole family is supported by the sole breadwinner, Halinka, who works hard as a nurse in a hospital.
The main premise of the show usually involves some "brilliant" scheme of Ferdynand of how to get money with the least amount of work possible, as well as the hilarious damage control when the plan inevitably misfires.
In many ways, the series is a satire and uses simple humor to denounce various human vices, such as vulgarity, laziness, egotism, or alcoholism, as well as to caricature the stereotypical model of Polish family life.
---
From cult classics like "Czterej Pancerni I Pies" or "Janosik", satirical gems like "13th Police Station" or long-running favorites such as "Świat według Kiepskich," Poland's television history is a treasure trove. It is worth remembering that these legendary Polish TV shows not only entertained, but also informed and connected entire generations of viewers, and thus are a testament to the unique role television plays in shaping cultural identity. So, if you have some time to spare, sit back on your armchair, grab your favorite drink in one hand and a remote control in another, and watch some TV ­ – Ferdek Kiepski would approve.
---
If you liked this article, you might also enjoy:
International media for expats in Poland