New Year's Eve in Poland involves rather standard celebrations. For some foreigners, the only novelty may be the name adopted by Polish people for this holiday, Sylwester. It is commonly used in some neighbouring countries as well, and commemorates the feasts of Saint Sylvester, an ancient pope. Historically, this day has always been an excuse for a joyous celebration. Many Polish towns and cities organise up to this day outdoor concerts, which are free of charge and open to any citizen. Here's a list of what to expect this year!
Warsaw
This year the capital city of Poland is definitely attractive for foreigners, as the main star of the evening is a British band, The Kooks, and a German DJ, Paul van Dyk. The young musicians will be supported by Polish artists – a rapper, Grubson, and two bands, LemON and Perfect. If you are a fan of any of them, make plans for visiting the area at the base of the National Stadium on December 31st!
Kraków
The second biggest city in Poland has taken the preparations very seriously – they have already started building the main stage for the big gathering in the Main Square. This year the party is being advertised as a 'FUNtastic' event and they have set the bar high. It will be broadcast live on TVN, one of the main TV channels. If you want to hear some of the biggest Polish divas live (Justyna Steczkowska, Natalia Kukulska or Patrycja Markowska), do not miss this opportunity!
Wrocław
Another televised concert will take place in Wrocław, in the city's Market Square. If you cannot come, you will be able to watch it on the second channel of the Polish public TV, TVP2. This event has a more modern twist to it – most of the performers are rock musicians. The people of Wrocław will have a chance to listen to some bands (Hey, Ira, Feel, Lady Pank), as well as female vocalists (Maryla Rodowicz, Ewa Farna, Sarsa). Go and check them out!
Katowice
The capital of the Upper Silesia region will have a magnificent show thanks to another broadcaster, Polsat. They are going to go all the way as the TV channel has invited a universally renowned disco band, Boney M., to celebrate their 40th anniversary in Katowice. Apart from them, a long list of popular Polish artists will perform their biggest hits. The event will take place next to the famous Spodek – a multipurpose arena which is the heart of the city.
Poznań
The city in the west of Poland has come up with something less conventional for its citizens. The theme of the event is swing music and the concert will consist of big hits from the '60s, '70s and '80s, as well as popular film scores. The celebrations will take place in Plac Wolności. If you prefer less mainstream music, you cannot miss this opportunity!
Lublin
On the other side of Poland, the city council of Lublin also had an original idea – they have decided to discard big celebrations in favour of more family-oriented activities. Lublin will boast a few stages, but instead of seeing famous musicians, its citizens will be able to watch fire-eaters, dancers and other entertainers. There will be an additional mini fireworks display at 10 p.m. for the youngest participants, so that their parents can manage to come back home, put them to bed and still have some time for each other. Seems like the city board in Lublin has been really sympathetic with young couples this year!
We sum up some of the main things happening this year in Poland in the infographic below: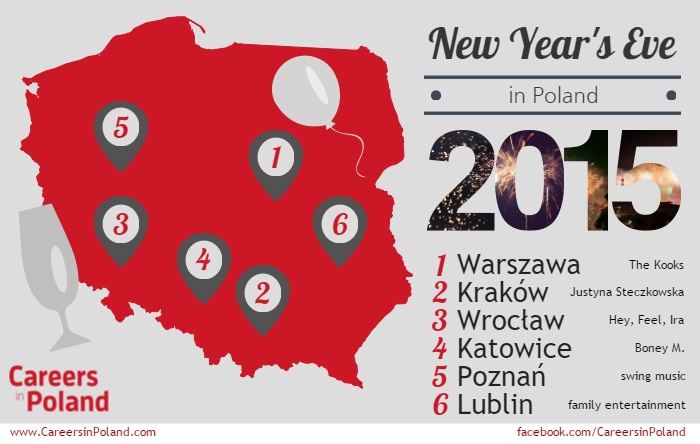 If you are staying in Poland – which city would you like to visit for this one evening? Are you planning on attending public events or will you sip champagne with your friends at a smaller party? Do you like the more modern approach to New Year's Eve in some cities? Let us know what you think and have fun, wherever you are, on December 31st!