Excellence is what we all strive for in our professional activities. Putting this fancy word in the name of your offshore business unit certainly adds up to its importance. Is this extra weight necessary as the actual representation of what goes on in a company's subsidiary, an additional burden for its employees to stress over the fact their performance is not always excellent, or a tool to make them feel more influential than their colleagues in other units?
Possibly none of the above. To have a clearer picture, one needs to establish once and for all what a centre of excellence is. In most cases, it is a cross-organisational business unit that has been purposefully designed to create value for the entire company with the use of knowledge and expertise of CoE's employees. The knowledge is crucial and needs to be profound in the aspect the centre deals with. In this sense, company's CoEs are the extension of shared service activities that were initially placed in Poland. As soon as the back office functions had been developed to a satisfactory level, many foreign companies recognised Poland's potential for more specialised projects in order to manage complex business tasks in the most efficient way.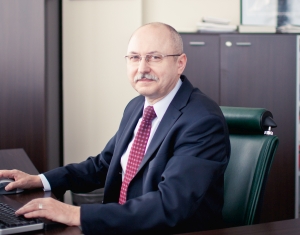 Andrzej Wypych, HR Head, Arcelor Mittal BCOE
Globally, there is a trend to move supporting
functions to Business Centers of Excellence.
It usually starts with the most automated
processes, namely financial ones, which bond
other mechanisms together. In ArcelorMittal
Business Center of Excellence we have set
forth to consolidate four areas: Finance,
Procurement, IT and HR. Our experts work
with the business to upgrade processes and in
this way gain added value.
This is how CoEs' organisational structures came to life in Poland. Instead of the back office, they started to support middle office functions and excelled at fostering business growth, as well as improving effectiveness. Cost-cutting, which used to be an important factor in SSC, remained as crucial, but it had to be accompanied by innovation in value making. There is a reason why centres of excellence are sometimes called competence or capability centres. In fact, these two names could suit them better than the most wide-spread, a bit snobbish term.
What is worth reminding is that centres of excellence, although utterly modern and future-oriented, are not a new invention. Before they became business-driven, initially they were deeply rooted in academic, medical or even government establishments, which brought together cross-disciplinary functions to ensure thorough research of a given problem. Nowadays, these different areas may still cooperate with corporate business in creating truly versatile solutions (for more on this topic, see the next pages of Careers in Poland).
Another important characteristic of each centre of excellence that has not changed over the course of time is that it consists of engaged individuals. No matter whether a CoE is an entire separate facility or a smaller unit within some greater establishment, it is a team staffed with part- or full-time members whose driving force is innovation. The drive is usually orientated in one direction: each CoE relies on the type of business the enterprise is involved with and therefore is often dedicated to a narrow field. Nevertheless, the range of services provided by different CoEs can be broad, varying from internal bank services and risk management to external reporting nd procurement. How does that work in practice?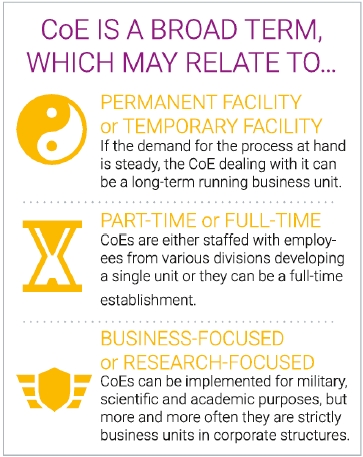 In financial institutions with international capital located in Poland, CoEs can be devoted to developing one particular process only. As the industry constantly evolves, CoEs' team members need to monitor the changes and react or adapt to them in order to ensure the creation of strategic business solutions. Depending on the profile of the organisation, there can be many CoEs within one company or even location, which deal with a specific issue on a global scale. A good example of this kind of competence activities could be State Street Bank's divisions dealing with Security Valuation, Derivatives or Anti-Money Laundering – each of them constituting a separate department within the company.
CoEs can be also related to other core business functions necessary for the global operation of the organisation, e.g. accounting. By placing this business domain in Poland, team members can ensure dealing with the close process, as in the case of the European Accounting Centre of Excellence in Groupon, an international e-commerce company. Their major activites in Poland focus on global customer service and content creation, but thanks to the CoE, Groupon's international accounting activities from all EMEA legal entities are conducted in Warszawa.
Apart from accounting and financial services, the market in Poland delivers many solutions related to the IT and tech industry. These two businesses have become the Polish specialty and CoEs or, more often in this case, competence centres, worked out the way of connecting diverse knowledge sources within organisations.
As in all CoEs, creating value is top priority, but another and very often more important by-product could be cutting-edge technology or IT tool delivered in the course of events. The CoEs in these two fields constitute a very prominent part of business in Poland, with such big players as Volvo placing its IT Center of Excellence in Wrocław, Intel's Compiler Center of Excellence in Gdańsk or Atos' IT units across the country.
Kinga Skorupka, Head of EACOE Poland
for Groupon EMEA
The European Accounting Centre of Excellence (EACOE) for Groupon EMEA is based in Warsaw, Poland. The EACOE provides a broad accounting expertise and develops the highest standards for particular services. Key activities of the EACOE at Groupon include coordinating the regional close process across the different main regional hubs across Europe. It is also specialized in financial processes for other subsidiaries around EMEA countries, such as analysis, reporting, internal control and business process support. Further activities include managing the accounting processes of specific general ledger accounts across all EMEA legal entities. The EACOE is responsible for all USGAAP and Statutory Financials of approximately 15 legal entities. The EACOA consolidates business processes in one place, to build the best knowledge and experience.
CoEs are not restricted to well-established market players only. It is in the interest of both big companies and startups to research constant development opportunities and competence centres seem to be made for that. The latter often choose Poland as a place full of not only fluent foreign language speakers, but also potential operational managers and process improvement experts. This could be illustrated by the case of Uber's Center of Excellence in Krakow, which focuses on both groups of employees.
A common occurrence is when centres of excellence are not established from scratch, but evolve from other business units instead. Some facilities in Poland started to perform tasks related to finance & accounting or IT processes, but later showed their initiative and leadership in more advanced areas, which led to the creation of CoEs, as in the case of Avon's activity in Poland. Their operational centre matured into a Global Centre of Excellence, which now delivers business modelling as well as project and change management solutions in all of the company's units across the world.
When applying for a job in Poland, you may find yourself facing a choice between various workplaces. If one of the options is a centre of excellence, you may rest assured of the guaranteed challenges and already start looking forward to international projects and colleague networks. While CoE may seem like a more demanding choice, it is simply bound to bring you more satisfaction in your professional life.