For many of us, a dream job isn't just about the money. It is finding the perfect profession that aligns with your passions and interests. We crave careers that not only provide financial stability but also allow us to wake up every morning excited about the day ahead.
While the ideal career varies from person to person, Remitly, a financial services company, compiled interesting data on the most desired jobs around the world. Using Google search data from October 2021 to October 2022, they analyzed the search volume for the term "how to be a [insert a job]" for every country in the world and in all local languages.
---
Top 10 dream jobs
Remitly visualized the results in a colorful world map, where the most researched job was assigned to each country.
On a global scale, the most desired jobs were:
1st place – a pilot
2nd place – a writer
3rd place – a dancer
4th place – a Youtuber
5th place – an entrepreneur
6th place – an actor
7th place – an influencer
8th place – a programmer
9th place – a singer
10th place – a teacher
---
EUROPE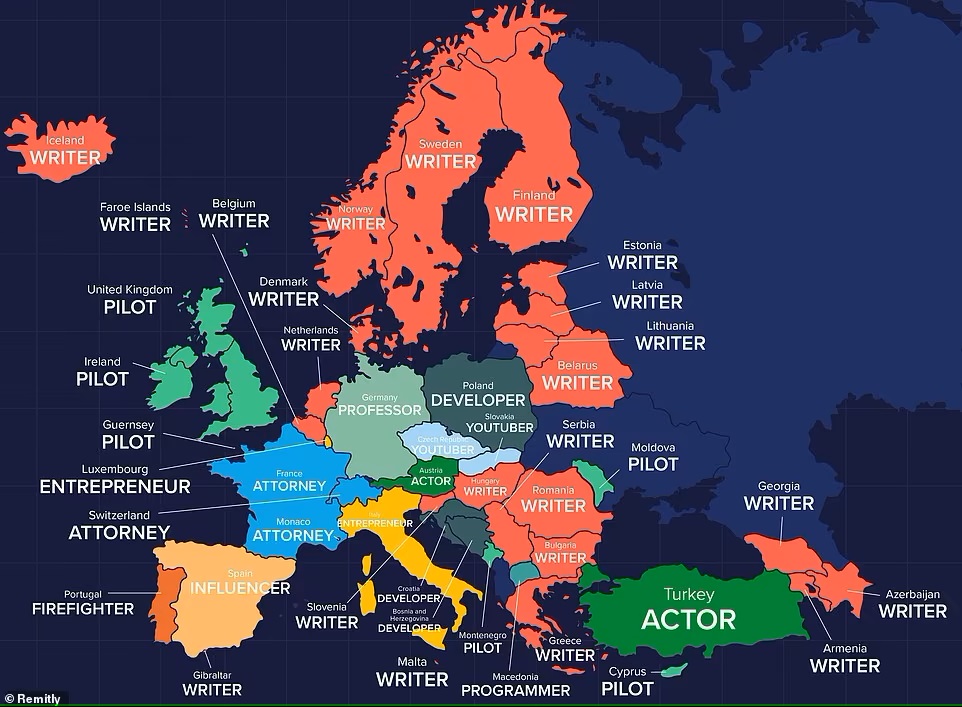 ---
Pilot
With approximately a million searches over the course of the surveyed year, being a pilot tops the list of dream jobs in 25 countries. Surprisingly enough, this career path seems to be particularly desirable in countries where the official language is English, such as England, Australia, and the USA. One might wonder why this is the case. Sure ­ – there is excellent pay and the ability to travel and see the world – but many jobs offer comparable benefits while involving significantly less work pressure and responsibility.
The pros
Good monthly salary of around 12 770 PLN* gross.
Travelling around the world.
Often – a reduced ticked price for the airline you work for.
The additional perks
Ability to unironically hum "Danger Zone" to yourself while working.
If you advance enough in your career path and earn the desired four stripes – you will be called by others "the Capitan". How cool is that? So cool that in fact, you could take it a step further and declare that everybody must call you thus, and should they dare to rudely stare, you can glare and make a fuss.
The cons
It is difficult to become a pilot. You need to have a perfect vision, and exemplary test scores, as only the selected few are considered for the role and the training process is very expensive.
The constant travel can take its toll – as much as it can be considered a benefit, you might find it tiresome to live on the bags. This lifestyle might also put a strain on your relationships and make them more difficult to maintain.
---
THE AMERICAS: NORTH AMERICA, SOUTH AMERICA


---
Writer
The second most globally desired profession is being a writer. There are many ways one could go around this, from a copywriter, or a journalist, to longer written forms of screenwriter or a novelist.
This job was the most popular in a whopping 75 countries and seems to be the go-to choice in most Nordic and Baltic area countries.
The pros
Flexibility – standard 9 to 5 working hours – begone! Writers are prone to work on a more flexible schedule, and what is more, they do not really need to work from an office – as long as you have a computer and an internet connection, the world is your oyst…er… office.
You can express your creativity, and explore your feelings and thoughts with others. You could also have positive others with your work, encouraging them to explore difficult emotions or social subjects, to work on themselves, or try to contribute more to the community.
The additional perks
If you happen to be a writing genius or just get lucky, you can write a script/novel that will be popular enough to be turned into a movie or a TV series, get franchised, and then earn you more money than you'll know what to do with in a lifetime. You will be set for life and be able to quit your daily job, which is fortunate because at that point the only writing you will do is signing on your checks and autographs.
The cons
Financial insecurity is something that many writers are sadly familiar with. Yes, sometimes you will get an article/screen script commission, etc. that will allow you to get a decent amount of money, but they can be few and far between. When the commissions don't come, it could be a feat to make ends meet.
Have you ever heard the phrase: "Everybody is a critic?" Well, that happens to be quite true. Therefore, as a writer, you will have to learn how to handle (sometimes constant) criticism and rejection. This is at times quite difficult, as sometimes your work will have you revealing your inner thoughts and emotions, and thus disapproval of them can feel very personal and damage your self-esteem.
Good luck competing with the ever-evolving generative AI!
---
ASIA AND OCEANIA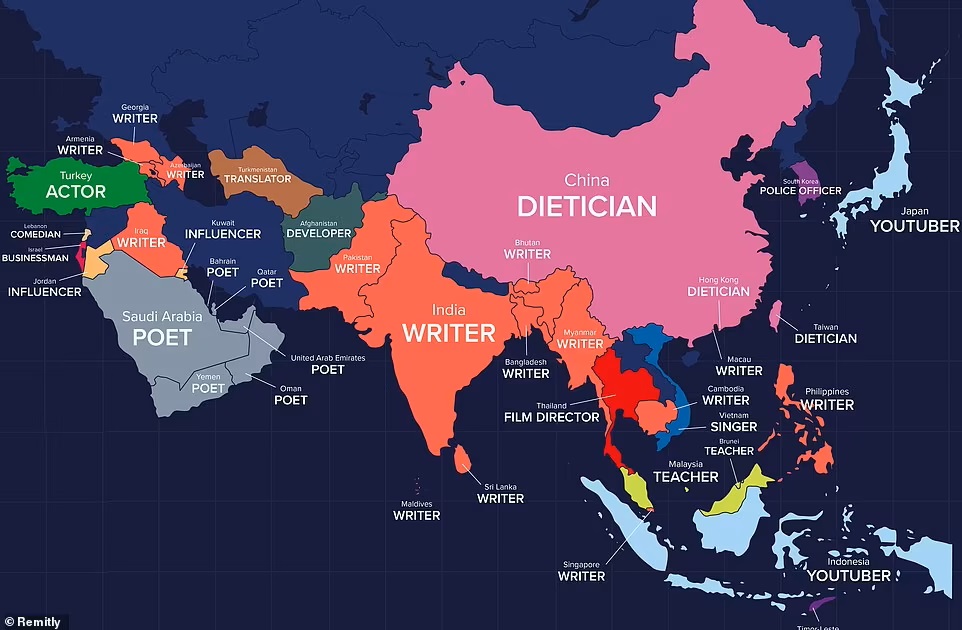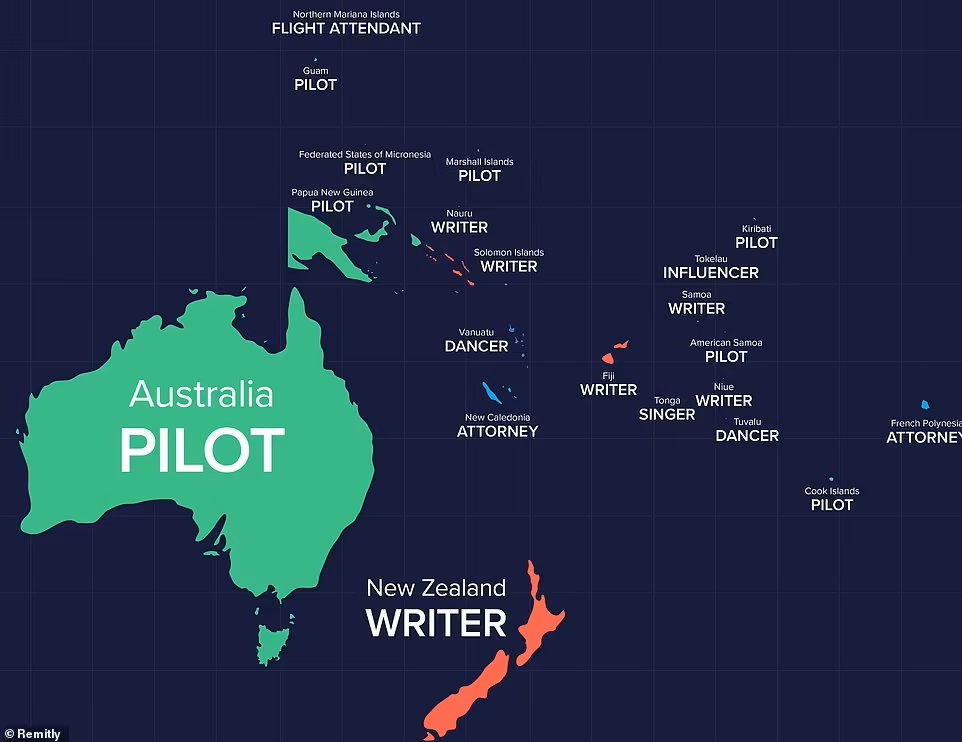 ---
Performer: dancer (3rd place), actor (6th place) and singer (9th place)
Overall, a career in the entertainment and performing industry seems to be highly desirable all over the world. Little wonder, too. They say "Life is a stage", and if so, you might as well dance, act, and sing, and get paid for it.
The pros and cons of working as a performer are somewhat similar to those present in a writing career. Both professions offer a chance for creative expression, as well as the public scrutiny and criticism that comes with it. Some lucky few will experience an immeasurable financial gain, but for those who are not Adeles and Brad Pitts of the performing arts, the more likely future is one of financial strain.
Also, there is a chance of international fame and recognition, but those more often than not come at the cost of privacy.
---
AFRICA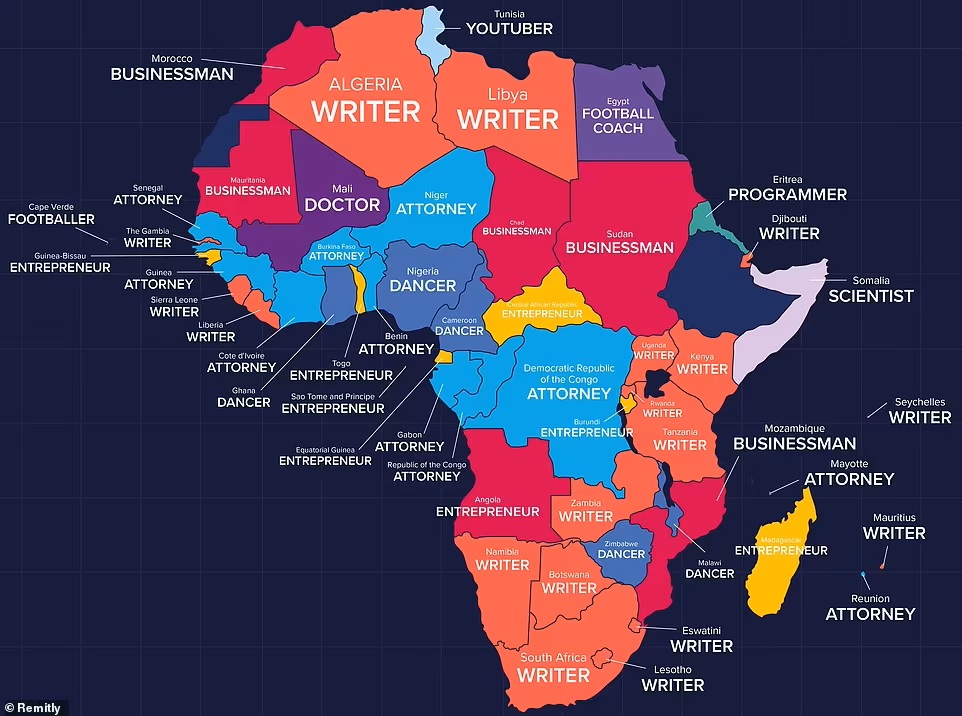 ---
Other top dream jobs
The other dream jobs that made it into the top ten list include jobs, that didn't exist 20 years ago, like YouTuber (4th place) or an influencer (7th place). From more traditional occupations, the profession of an entrepreneur (5th place), a programmer (8th place globally, but the top choice in Poland), and, surprisingly enough, a teacher (10th place), were also highly regarded.
---
Possible shortcomings of the research
It's worth noting that there are certain doubts one can have about the credibility of Remitly's research method.
1. Research question: How to be a [job title]
First of all, posing the research question in the form of ("How to be a…") might not necessarily give us the most reliable answer as to what is the most desirable job position.
The research question underlines the aspect of becoming, aka the steps one must take to achieve success in a certain field. And that is certainly an understandable question, but… Imagine that you want to become a doctor. What would you need to do? Well, most of us would probably answer that one needs to get a medical degree – this is almost common knowledge. As such, it is possible that you wouldn't feel the need to google "How to be a doctor". You would sooner google: "Best medical universities/programs in…" or something similar.
Whereas the road to becoming a pilot, let's say, might be less obvious. Therefore, it could be more likely that the general public would type "How to be a pilot" in the Google search engine.
Thus, there is a chance that the results of Remitly's research might privilege the professions with untraditional career paths.
2. Selection of categories
We do not quite know how broadly or narrowly every dream job was categorized. For example:
Pilot – did being a pilot include all subcategories, like flying airline planes, and for example, fighter jets? Those are all planes, sure, but the specifics of jobs are quite different.

Same for a writer: is it being a copywriter, a screenwriter, or a novelist? Or all of those?

But even so: why is a Poet – a job listed as most desired in Saudi Arabia, for example – excluded from being a writer? Does using rhymes elevate the writing into a separate category? And if so, what happens if a writer uses blank verse poetry – so without any rhymes? Is he then degraded to being a writer?

YouTuber vs. Influencer: An argument could be made that the profession of a YouTuber involves being an influencer of sorts. After all, many YouTubers make most of their money not from YouTube views revenue, but from sponsorships and ads – and thus, they leverage their influence on their audience.
---
For many of us, dream jobs are not just idle fantasies but can be the ultimate goal. They can offer the opportunity to live a life guided by personal values, passion, and a sense of purpose. Whether you aspire to be a maverick of the skies, an entrepreneur, or an artist, pursuing your dream job can lead to a deeply fulfilling and rewarding career. So whatever profession you choose, sing your heart out and dance like nobody is watching ­– though you better hope they are watching, really. Otherwise, how will you get paid?
---
If you liked this article, you might also enjoy:
The Bane of BANI. How to succeed when the times are a-changing?