Rózga - Santa brings presents to well behaved children but the naughty ones may get rózga (a rod) instead! - at least that's what Polish parents like to say. You'd better watch out, Santa knows what's up!
Szopka krakowska - the tradition of building Kraków nativity scenes dates back to the 19th century and has recently been added to UNESCO's Intangible Cultural Heritage List. How are these decorations different from the usual nativity scenes? The Kraków szopka is a very colorful, ornate structure, using Kraków's famous landmarks as the backdrop for the nativity scene. These unique creations are hand-made by skillful artists and often displayed in various museums over Christmas.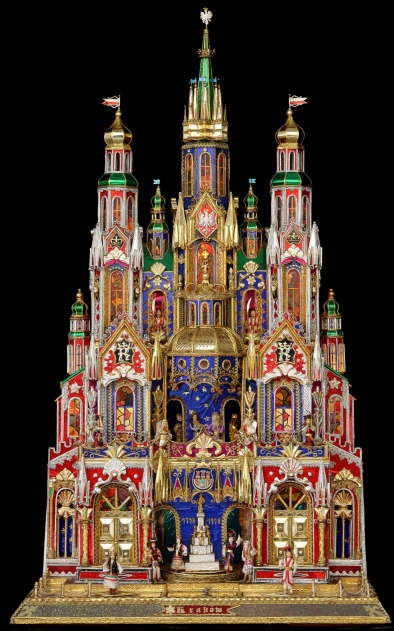 Tangerine - Polish Christmas smells of tangerines, oranges, gingerbread and… bigos.
Tree - and by a tree we mean a Christmas tree, of course. Traditionally, it used to be decorated by the whole family on the morning of Christmas Eve, but nowadays it is common to put the tree up a few days before Christmas and save some time on the big day.
Uszka - these small dumplings that float in your Christmas barszcz are literally called "little ears" (apparently their twisted shape resembles an animal ear) and stuffed with minced meat or cabbage and mushrooms. As you can see, there can be no real celebration without pierogi in one form or another.
Visitor - and an unexpected one. Poles always set an extra plate for "an unexpected visitor" or a "weary traveller" on their Christmas Eve table. No one should be left alone at Christmas, after all. While it is unlikely you will be visited by some lost wanderer, the beautiful custom reminds you of all those who may be in need of company over the holiday period.
Wigilia - the day of Christmas Eve is called Wigilia in Polish, as it derives from the Latin word vigilia - wakefulness or vigiliare - to keep watch. Wigilia and the solemn Christmas Eve supper is probably the most important part of the Christmas celebration for Poles.
Zupa grzybowa - if you are not one for beets and barszcz, you can always opt for zupa grzybowa (mushroom soup), another traditional Christmas Eve dish in Poland.
Życzenia świąteczne - Christmas wishes. Wesołych Świąt everyone! Have a joyful Christmas season and a very Happy New Year!
On animals and idleness - a little dictionary of Polish Christmas (part one)
It's carp o'clock! - a little dictionary of Polish Christmas (part two)
Szopka krakowska, Bronisław Pięcik, MHK, 1998 by Rafał Korzeniowski [CC BY-SA 3.0]