Of course there are certain names and concepts that ring a bell – Chopin, excellent cuisine, folklore and a handful of Nobel prize winners to name a few – but would that enough to feel comfortable with any country's cultural atmosphere? Polish art and popular culture have very close ties to the West of Europe, but that does not necessarily mean that they have been easily accessible so far. Nowadays, with open borders and an uninterrupted flow of thought facilitated by new media and technologies, those who are willing to will hopefully be able to emerge themselves in the Polish culture. What will the process look like by 2030?
MEETING POLISH CULTURE
The modern Polish culture is a mixture of native influences and ongoing dialogue with the rest of Europe, if not world. It is as vibrant and flexible as any other culture, yet distinct in its peculiar suspension between the East and the West. The split, which makes it both easier and harder for foreign recipients to access, is slowly becoming less and less visible, and even if it becomes apparent, it does not necessarily overcomplicate things or cloud cultural perceptions.
"Art can easily do without words or translations," believes Rafał Wiśniewski from the National Centre for Culture Poland, and indeed, this argument has been raised for many centuries now. "It is boundless and timeless, so even though context does help in some situations, it is not always necessary to evoke emotions in a viewer or reader," he says.
In 2018 the Cannes Film Festival awarded a Pole, Paweł Pawlikowski, the best director award for his movie, Cold War. The film easily won the hearts of international audiences even though it tells a love story set against the backdrop of a mid-20th century traditional musical and dance group in Poland. Surprisingly enough, the folk elements did not bother those unfamiliar with the Polish folklore; on the contrary – the reviewers and cinemagoers praised the story especially for its slightly exotic visuals and music that accompanied a classic star-crossed-lovers' tale of universal value.
Experiencing culture is for Poles increasingly easier, especially considering the number of institutions serving this purpose. The National Centre for Culture engages in numerous activities that aim to draw people towards arts, literature and national heritage with all its varied aspects. Using diverse platforms (murals in city centres, board games, singalong events or promoting national symbols, to name a few) lets the people engage themselves in participating in it on a daily basis. With the number of foreigners on the rise, they should be able to participate in it all in the same way in no time.
One more aspect that draws international attention to Poland's heritage and cultural achievements is the centenary of regaining Polish independence (1918-2018). There are many programmes aimed at celebrating both local anniversaries and heroes of Polish independence, but also those that promote them abroad and help foreigners become familiar with some aspects of Polish history. Addressing the role the Polish diaspora played in the twentieth century in Europe and overseas or introducing the pioneers of the Polish avant-garde movement may help raise interest in what the country has had to offer.
INTERACTION WITH OTHER CULTURES
The culture of Poland has always been open to other nations – it was reshaped under their influence and interacted with them on many levels. The 20th century saw the crisis of this interchange – the two world wars and the period of communism very often successfully trumped any such efforts. For foreigners already living in Poland, participating in cultural events or activities gives them a chance to make themselves at home. There are more and more opportunities for that – English-friendly cinemas, translations of Polish books, museums and art exhibitions available in various languages.
The National Centre for Culture stresses that within their scope of activity there are already many initiatives that allow foreigners to participate in the Polish culture freely. "We are very happy with the East of Culture project, which focuses on a series of festivals that foster cooperation between cities in Eastern Poland and their partners across the border and even further east. It gives ground for exchanging artistic value and local artistic initiatives," says Rafał Wiśniewski. The festivals' success in Rzeszów, Lublin and Białystok over consecutive years proves that there is space for sharing cross-border cultural experiences. The centre also works with international organisations on an institutional level. According to its head, The Polish Culture Yearbook, an annual compendium on Poles' participation in various aspects of culture, is well-received across Europe and raises genuine interest abroad.
FUTURE PLANS
2030, according to cultural institutions in Poland, is not far away. Although it is hard to say what content will dominate over the next decade and how will the trends fluctuate from now on, there are a few tenets that can be pinpointed. Rafał Wiśniewski believes that Poland's strength lies in opening itself to more modern areas: design and marketing art or famous Polish game studios, which very often set trends on a global scale. Looking from a smaller perspective, he feels very strongly about the importance of local art and heritage in Poland. "Specific cities and areas of the country are related to specific aspects of culture," says Rafał Wiśniewski. It is true that the revival of the Jewish culture in Poland is associated with Kraków and that Łódź is the capital of Polish street art and film industry. These specialisations will become more visible over the years and foreigners may be attracted to different cultural profiles in particular cities of Poland.
Finally, there is the question of recognising the signs of the future in providing access to arts or national heritage. Digitalisation is the best way to go about it and in general Polish cultural institutions are already doing great in this regard. With mobile exhibitions and a wide access to digitalised works of art, manuscripts, or even the possibility to view objects thanks to virtual reality technologies and other tools, it is becoming increasingly easier to appreciate all the accomplishments in these areas. And yet there are more of these devices to come – the National Centre for Culture is not the only institution that wants to promote its subjects of interest with the use of innovation. Maintaining the current trend of using technology to make cultural experiences more reachable and focusing on cooperation as well as networking will hopefully bring Polish residents and citizens to a place when in 2030 many initiatives will get a brand new quality. Rafał Wiśniewski hopes that within a decade recipients will be able to become creators too, and that their participation in culture will occur on a more frequent basis. Here's to it being even more diverse and thrilling, too!
---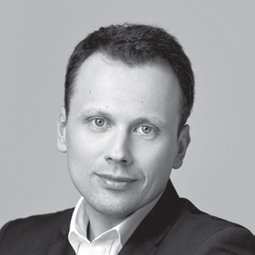 Our expert:
Rafał Wiśniewski, PhD
HEAD OF NATIONAL CENTRE FOR CULTURE