Nowadays, everything around us generates some sort of data – computers, telephones, watches, all kinds of sensors, and for some time now even refrigerators and washing machines. According to IBM's estimates, 90% of data existing today in the world was produced just in the last 2 years. Today, data is the key to success, in every business. Data science has become a critical success factor for many businesses due to the unprecedented scale of data growth and structural development, as well as the entirely new ways in which we analyse and use information.
Financial analytics is increasingly using unstructured non-financial data, relying on an innovative and creative approach to researching existing data sets and creating new models that take into account unconventional sources. Consequently, data science is playing an increasingly important role - as an interdisciplinary science that includes a systematic and professional approach to researching data sets, applying and creating tools for their analysis and drawing conclusions based on industry-specific know-how. Although data science is closely related to big data, artificial intelligence and machine learning, it is not limited to these areas. Today's data science specialists widely use analytical and statistical solutions derived from economics and computer science.
There are many interesting examples from the world of data science, such as an analyst who took a closer look at the credit card fraud and concluded that its structure resembled the process of DNA sequencing. By exploiting analogies between these seemingly separate phenomena, he managed to create a model that significantly reduced losses from the credit fraud. It is this kind of thinking that's one of the main driving forces in the area of ​​data science, says Krzysztof Czarnecki, Financial Controller and Head of the Financial Accounting and Controlling EMEA team at UBS.
Thus, data science is one of the most quickly developing and prospective fields of business analysis, influenced by the changing technical possibilities and modern forms of work organisation. Taking into account the very fast development of information technology and the growing dependence of businesses on big data analyses, the demand for specialists in this industry will just be growing.
Most companies have access to the so-called "data opportunity" – vast sources of data covering most elements of business activity and diverse connections between them. It is crucial for the organisation to have a team of data science experts who will draw accurate and valuable conclusions based on this extensive and unstructured source, says Krzysztof Czarnecki.
Being able to identify major business opportunities for usage of machine learning and other programming tools along with ability to provide comprehensive explanation and overview to senior stakeholders is considered to be one of the biggest challenges of working as a data scientist.
The growing role of specialists in this area is related to increasing need for skillful communication with decision-makers and senior management in the organisation. Data scientists must be able to translate a complex data analysis language into a comprehensible and attractive business language, which will allow developing a business case and achieving a significant impact on decisions made by the organisation - from decisions relating to the development of individual products to decisions determining corporate strategy, adds Krzysztof Czarnecki.
Data science specialists – who are they?
Data science specialists are expected to have well-developed analytical thinking and problem-solving skills. It is crucial to be able to quickly learn new programming tools and use them in the context of complex data sets in order to draw meaningful conclusions from data analysis. Correct interpretation and impactful presentation of the results is also very important.
Financial literacy may be necessary in certain roles. On the other hand, in teams more closely related to IT, the main requirement is the ability to think like a programmer, which allows you to quickly learn new tools, says Krzysztof Czarnecki and adds, Curiosity is also very important – the desire to find the very source of a given problem, the factors that cause data irregularities and correlations in data set.
Data science teams employ people with very diverse educational backgrounds, well reflecting the fact that this is a relatively young field, in which specific skills and competences are the most important, and not necessarily the type of studies completed. You can join the team at virtually any stage of your career - right upon graduation or even while still studying (as an intern), or after gaining some experience in other areas of finance and IT. The overall skills of creating and applying statistical and mathematical models to data sets, as well as previous experience in financial analysis and project work, are highly appreciated by recruiters.
Career paths
The development path for data science specialists depends on their individual interests and skills. Data science, both in finance and IT, is associated with a very broad range of opportunities. As Krzysztof Czarnecki points out, there are many teams working in this area at UBS, whose daily tasks and responsibilities are very diverse. They can be, for example, related to statistical modelling, implementation of machine learning solutions, programming, financial analysis or substantive validation of data models and their subsequent presentation to the business people.
At UBS, the data science employees can specialise in a specific area of ​​knowledge as part of an expert path (the so-called Subject Matter Expert or SME) or assume leadership and managerial roles in teams, says Krzysztof Czarnecki.
Due to working in a dynamic industry that is constantly developing, continuous training and following new trends is of key importance.
About UBS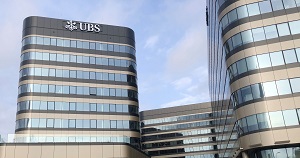 UBS provides financial advice and solutions to wealthy, institutional and corporate clients worldwide, as well as private clients in Switzerland. UBS is the largest truly global wealth manager, and a leading personal and corporate bank in Switzerland, with a large-scale and diversified global asset manager and a focused investment bank. The bank focuses on businesses that have a strong competitive position in their targeted markets, are capital efficient, and have an attractive long-term structural growth or profitability outlook. Our UBS offices in Poland are located in Krakow and Wroclaw. To read more visit: ubs.com/poland
---
Comment
How much truth is there in the saying: "Data science is not a science – it's an art"?
Krzysztof Czarnecki: There is something to it, especially bearing in mind that data science combines a very strict and scientific approach of data analysis and computer programming with the soft skills - such as a proper data presentation and subsequent communication. Data science is a unique combination of the ability to decode the most complex and unstructured data sets with the skills of an analyst, an efficient communicator and a business partner.